Winter Storm Stella Update: Washington, DC, expected snowfall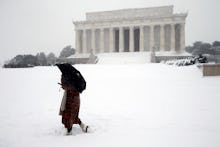 A massive snow storm is on its way to the Northeast — and though Washington, D.C., won't be getting the worst of it, its residents are still in for some significant and potentially disruptive precipitation.
The National Weather Service has issued a winter storm warning for Washington and the surrounding area, projecting the city will receive four to eight inches of snow. The heavy snow will also be mixed with sleet overnight into Tuesday, which will result in dangerous travel conditions and potential scattered power outages.
Washington will be most impacted by the snow from Monday night through early in the day on Tuesday, with the winter storm warning in effect through 2 p.m. Eastern on Tuesday. The Washington Post projected the snow will likely begin between 6 and 9 p.m. Eastern Monday night, although above-freezing temperatures mean it likely won't begin to stick to the ground until later in the evening.
Snowfall amounts will vary wildly throughout the region, the Post reported, noting that there could be areas that receive barely any snow and others with nearly a foot of accumulation within 10 miles of each other. While just two to four inches of snow is expected to fall within the Beltway, areas further north in Maryland could see 12 inches or more in total. Accumulation will be lowest in the southern areas of the region, with parts of northern Virginia and southern Maryland expected to receive just two inches of snow at the most.