NCAA 2017 basketball tournament: Times, TV schedule, live streams for March Madness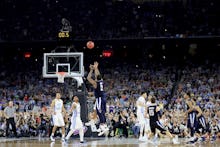 It's that time again.
That time when the best college basketball teams across the country compete for the NCAA title, and when the rest of us make futile, frustrating attempts to predict who will win.
On Sunday evening, this year's bracket was revealed. Villanova, who won the tournament last year on a dramatic buzzer-beater, enters the tournament as a one-seed, along with Kansas, Gonzaga and North Carolina. Some history was also made on Selection Sunday, as it was announced that Northwestern would be making the tournament for the first time in the school's history; the Wildcats are an eight-seed and will take on a ninth-ranked Vanderbilt in the first round.
Here's how to watch March Madness:
When are the games?
The First Four will be Tuesday and Wednesday, with the play-in games at 6:40 p.m. and 9:10 p.m. Eastern on both days. All First Four games will be broadcast on truTV.
The second round will be played over the weekend. The Sweet Sixteen and Elite Eight will be played from Thursday, March 23 to Sunday, March 26. The Final Four games will be played on April 1 and the National Championship will take place on April 3. 
The tournament starts in earnest when the first round kicks off Thursday. The Round of 64 will be played on Thursday and Friday.
All games will be broadcast on CBS, truTV, TBS and TNT.
The full schedule of games can be found here.
How can I stream the games?
All games can be streamed at NCAA March Madness Live and the March Madness Live app. CBS, truTV, TBS and TNT — which are broadcasting the games — will also be streaming the games.