For Women's History Month, this teacher recreated vintage ads to call out sexism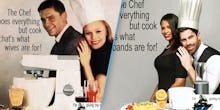 In honor of Women's History Month, Union High School teacher Nicholas Ferroni wanted to teach his students — and people all over the world — about the history of the advertising industry's blatant sexism.
So Ferroni teamed up with 2010 Miss Teen USA Kamie Crawford, who made headlines after revealing she was told Donald Trump didn't like black people, to recreate sexist vintage ads. This time, however, the gender roles were flipped.
"Independent and empowering women are the norm," Ferroni told Mic in a video message. "I thought it would be so interesting to update these ads for the modern women. So we picked six of these ads, the most absurd ads, and we basically flipped the script."
Ferroni said he created the campaign because he knows there are still men who don't see anything wrong with the original, sexist ads. He also wants to combat sexism in American society.
"Let's be honest," Ferroni said. "There are still men out there who think these ads are still OK. We still live in a society where misogyny and sexism are very apparent."
The history teacher said the goal of the reinvented ads is to start a conversation about the way women are represented in advertising.
"Our goal, or my goal, was not intended to demean men," Ferroni said. "It was just to put things in perspective by taking those ads and completely flipping it. When you see the new updated ads that we shot, they're hilarious, and at the same time you realize they're absurd now."
More importantly, Ferroni wants to send the message to men that women empowerment is not something to feel threatened by if they're comfortable with their sexuality.
"We hope this opens eyes, It makes people talk. It puts things into perspective and celebrate all the strong and independent women out there," Ferroni said. "I'm secure enough in my masculinity to admit it's OK for a woman to be independent, empowering and successful. Only weak and insecure men are threatened by strong and independent women."
Scroll through the rest of their ads below: