The definitive guide to tipping for delivery when it's absolutely horrible out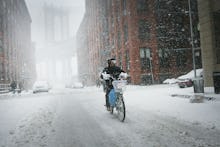 With the rise in prominence of apps like Caviar, Grubhub and Seamless, you're only a few clicks away from having someone trek through rain, sleet or snow to deliver a bountiful feast to your cozy home.
But every bout of inclement weather raises the question: Is it ethical to order food delivery in the snow? 
While you're lounging on your couch deciding whether to order Chinese food or resort to the sad can of lentil soup in your pantry, there are a few things you'll want to consider. 
Is the restaurant open? 
If a restaurant is open during a snowstorm, you should feel free to place orders, Thomas P. Farley, aka New York-based etiquette consultant Mister Manners, said in an email. 
"Although your motive may be to spare them the aggravation of traipsing in the snow and wind, you and other well-intentioned folks will actually be sparing them of much of their day's income," Farley noted. 
In fact, tips represent 30 to 70% of a delivery person's salary, Wait But Why noted after interviewing 123 people whose jobs depend on tipping. High tippers give 20% on average regardless of weather, Wait But Why reported. 
Order away if a restaurant is open, Farley advised. "But be patient and be generous — even more so than normal."
The online ordering site Caviar evaluates weather conditions to decipher whether it's safe for "couriers," aka delivery people, to travel, Caviar spokesperson Catherine Ferdon said in an email. If a restaurant is closed, it will be listed as "Available Later" on the Caviar site and in the app, Ferdon said. 
How much should you tip? 
"As you ponder a [tipping] amount, you should weigh the value of staying warm and cozy while someone else braves the elements to bring you food," Farley said. "That valuation should rise as the snow accumulation and wind speed do."
In other words: You should absolutely be tipping more if you're indulging a pizza craving and there's a foot of snow on the ground. And other people are compensating delivery people for their trouble, too. The delivery app Seamless observed a 9% spike in tips during a winter storm in January 2015, the Huffington Post reported. 
Gabriel Martinez Rios, one of the thousands of delivery people in New York City, told the Huffington Post that he makes more in tips during bad weather. Rios works six or seven days a week and delivers orders for a macaroni and cheese restaurant and a juice shop. He will bike through the snow and rain — unless the snow is higher than six inches. 
Some delivery people are prepared to go the extra mile in frightful weather, even by foot. 
"Some of the delivery guys abandoned their bikes and walked the rest of the way," Eric Toribio, a shift manager at New York City restaurant Natureworks, told the New Yorker about the "Polar Vortex" of January 2014. "People were definitely thankful that we didn't give up, but did whatever it took to get them their orders. That's when you get a big tip." On a day when three inches of snow covered Manhattan sidewalks, the delivery staff at Natureworks saw a 14% increase in tips. 
"If you can't afford to tip above the normal amount, perhaps it's time to put on your winter gear and make a food run yourself." —Thomas Farley, etiquette expert
"Imagine being out on a bicycle, dodging traffic and avoiding brown slush, while it's below freezing and your feet are wet? That shit right there has gotta be worth a $20 tip!" one Facebook commenter from New York City noted. 
Grubhub has straightforward and practical tipping suggestions on its blog, The Crave. Your tipping math during storms should keep these guidelines in mind: 
• Always tip at least $5 or 20% of your meal price, whichever is higher.
"Days like these are no occasion to be stingy," Farley said. "If you can't afford to tip above the normal amount, perhaps it's time to put on your winter gear and make a food run yourself."
"Even if your bill is $5, [food delivery is about] the convenience — you should give them a few dollars," said Diane Gottsman, a national etiquette expert at the Protocol School of Texas. "[Your tip] should be substantial enough to be worth their while. It should be enough so you would be proud for someone else to know what you're tipping." 
When your food arrives, be ready to thank your delivery person with your wallet and a grateful attitude. 
"Don't keep the person waiting outside, have your money ready to go, offer a smile, your sincere thanks and a generous, more-than-normal tip," Farley said. "Be grateful. The fact that your food took longer than normal to get to you or is cold on arrival should be a small price to pay for getting to enjoy the storm from indoors." 
Kate Bratskeir contributed to the reporting of this story.