Paul Ryan embraces report that says 24 million will lose coverage under GOP health plan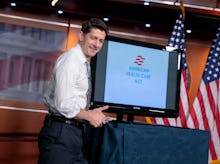 House Speaker Paul Ryan celebrated the nonpartisan report which showed his health care plan would cause 24 million people to lose their health coverage over the next decade, saying in a statement that the Republican plan would "lower premiums and improve access to quality, affordable care."
"This legislation will provide massive tax relief, dramatically reduce the deficit, and make the most fundamental entitlement reform in more than a generation," Ryan said of the Congressional Budget Office's report.
While it's true the CBO report says the GOP's health care proposal — known as the American Health Care Act — will lower the deficit, the cost savings come from cutting the Medicaid expansion and reducing subsidies that helped Americans afford health insurance.
"The largest savings would come from reductions in outlays for Medicaid and from the elimination of the Affordable Care Act's subsidies for non-group health insurance," according to the CBO report.
And, while the CBO report said younger people could see their premiums drop, low-income seniors get hit hard. By 2026, a 64-year-old who does not receive employer-sponsored insurance could see their cost rise 20% to 25%, according to the CBO.
Ryan, however, made no mention of those increased costs, or the reason for the savings in his statement.
"Our plan is not about forcing people to buy expensive, one-size-fits-all coverage," Ryan said. "It is about giving people more choices and better access to a plan they want and can afford."
While Ryan celebrated the CBO report, Health and Human Services Secretary Tom Price decried it during a news conference at the White House, saying the Trump administration disagrees "strenuously" with the CBO's numbers.
Price said the CBO report is not taking into account other steps the Trump administration will take to try and reduce costs and insure more people.