'Overwatch' 2.7 Patch Notes: New hero Orisa, Ana nerf and more now live in new update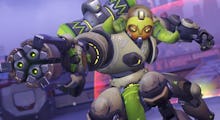 Rejoice! Overwatch's newest character, the centaur-like tank Orisa, is now available for free across all platforms.
You can play Orisa once you download the newest patch update, 2.7, which also includes a number of significant changes that were on the public test realm in recent weeks. This includes a nerf to Ana's damage and a slight nerf to Bastion's damage resistance. We've got the full patch notes embedded below.
Notably, patch 2.7 does not include an update to Lúcio that Blizzard hopes will ultimately make him a bit more exciting to play. It's likely that particular update needs a bit more time on the public test realm before it's ready to go live. Similarly, an update that changes the way ties are handled in competitive mode is not yet live.
Alongside Orisa's release, Blizzard published a new video showcasing all her abilities, which you can watch below.
Overwatch 2.7 Patch Notes
Here are the full patch notes, from Blizzard's site.
PATCH HIGHLIGHTS: 
More Overwatch news and updates
For more on Overwatch, check out the rest of what Mic has to offer. Here is a list of our predictions for what seasonal events might appear in 2017, a look at a very funny but naughty meme on the Overwatch subreddit, an interview with the creator of an awesome new Overwatch zine, a full explanation of the different types of health in Overwatch, our definitive ranking of every Overwatch hero, a roundup of awesome gender-bent Overwatch cosplay and a giant Overwatch FAQ for beginners.