'The Bachelor' 2017 finale recap: Did Nick Viall choose Vanessa Grimaldi or Raven Gates?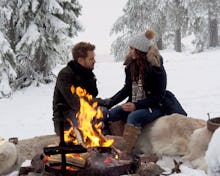 It feels like it's been years, maybe even decades, since we started this journey, but on Monday night, Nick Viall's long winding road to redemption on The Bachelor came to an end. Yes, our boy finally crowned a winner and offered his heart to ... Vanessa Grimaldi. Was it really a surprise? Here's how everything went down, because Monday night's season finale wasn't without a little drama.
Hosted in the traditional season finale "live" format — aka Chris Harrison interrupts the show every few minutes to chat to a studio audience — the episode kicks off with the trio — Nick, Vanessa and Raven Gates — still in snowy Finland, wearing itchy wool sweaters and skipping through the streets with a crew of unsupervised Finnish children.
Nick says he's terrified that things won't work out, but luckily a few members of his very large family are here to help counsel him through his difficult choice. He tells his assorted parents and siblings that he's just not sure which woman to choose, and he thinks he's been holding back some of the love in his heart or something.
Raven is first up to get grilled by Nick's extended family. They sit down to a meal and then Raven immediately gets up for a one-on-one with Bella, Nick's younger sister. At this point, Bella has had more airtime on this franchise than some actual contestants. 
Raven tells Bella she loves Nick, and then she also tells Nick's dad that she loves Nick. And then she tells Nick's mom that she loves Nick. She's just telling everyone! Nick's parents both leave their chats with Raven feeling good about her — but then Nick's mom takes him aside to poke at his insecurities.
She says she hopes it works out but, you know, it might not! On that note, Nick gets up, says a nice goodbye to Raven and waves her off as she drives away. What a whirlwind that was!
The next day, Nick's family gathers again, in slightly different outfits, to vet Vanessa. Bella dutifully hugs Vanessa but we all know you like Raven better, Bella. Nick's dad tells Vanessa they want to know "everything" about her, and it takes her about 10 seconds to sum herself up. Then she tells them all about how she puked on her first date with Nick and he maintained eye contact the whole time! How fun.
Nick's mom takes Vanessa into a bedroom for a private chat, and Vanessa tells her all about how much she loves Nick and how serious she is about him. But she says she's not sure she's ready to get engaged. Vanessa is, reasonably, concerned about the possibility of getting engaged to someone she's only known for a handful of weeks. But Nick's mom just gives her major side-eye.
Later, Nick goes off to have a private chat with his dad, who says she is totally his type. When Nick's dad pulls Vanessa aside for a chat, she tells him the same thing she said to to his mom, which is she loves Nick but isn't sure she's ready to get engaged.
Nick's dad says that relationships aren't just about love; they're also about sacrifice and other junk. Then he tears up and cries a little, which almost immediately makes Vanessa cry. Then they hug and cry into each other's arms. Totally normal things that definitely always happen the first time you meet your boyfriend's parents.
Later, with all the gals gone, Nick's family sits around and dissects the time they spent with both of them. Their conclusion is ... both girls were good! But Nick's mom tells him she's worried he's going to get hurt again. His family is obsessed with imagining scenarios in which the women somehow both turn him down. Come on gang. Have a little more faith in Nick!
The next day Nick has a date with Vanessa, and they go on a horseback ride through the Finnish woods. Vanessa says she loves EVERYTHING about Nick, which seems like a little much. The two of them are headed to a magical surprise destination, which turns out to be ... Santa's house. They hang out in Santa's little cottage with him while everyone works hard to maintain the bizarre illusion that this is actually the real Santa Claus. He gives them a fun wood carving with their faces on it.
Then it's time to leave Santa behind, and Nick and Vanessa hang out by the fire while she once again explains how seriously she takes engagement. It's practically marriage, she says! Nick tries to reassure her, but she's just not sure if she can be with him. Vanessa says she's confused, and she fears "the unknown." Same, girl.
On the nighttime part of their date, Vanessa is still feeling sad that Nick could have strong feelings for someone else. But she lets him into her little cabin for another serious heart-to-heart.
Nick says he's just being careful with his heart. And when Vanessa asks him if he's ready to propose he's weirdly evasive. She seems to think that being one of two finalists for his heart just isn't that romantic, but Nick insists that romance is all a matter of perspective. Sure it is, buddy!
They go back and forth for a while, but she just isn't buying what he's selling. So she just cries while he cuddles her, which is honestly the most realistic date activity that's ever happened on this show.
Nick says he feels bad that Vanessa's unsure, but he can't give her the clarity she wants because he still has strong feelings for Raven. Oh, what will he do!
Speaking of Raven, the next day is her final date with Nick. She's absolutely more upbeat than Vanessa — instead of crying on a couch together, Nick and Raven enjoy a delightful ice-skating montage. 
Raven says she's absolutely ready to get engaged to Nick, and she's really confident in their relationship — so confident that they lie down on the ice and kiss right there! Wow that seems uncomfortable!
Nick tells Raven that his family really loved her — and then he leaves for a second and comes back with two puppies. PUPPIES. Every episode of The Bachelor would be way better with puppies.
Later that night, Nick walks through the woods to come knock on Raven's door. She says she's never felt this kind of love for anyone before, and she needs to explain her feelings to Nick. Raven asks how he's doing, and Nick says he's so stressed that he can't move his neck. 
Nick explains that he cares about both women so much that it's eating him alive, which is gross, but he's grateful for the super fun day he had with Raven.
Raven basically tells Nick that she'll totally say yes to him if he proposes, and that she loves him. He says he knows she loves him because she's so sincere, and he's definitely not worried that she doesn't like him. That's nice.
Then Nick tells Raven that he's so proud that she's here on his show that he wants to brag about it to people, to which she says, "Aww, Nicholas." Raven says she's 100% ready to spend her life with Nick, and she honestly seems pretty sure he's going to pop the question. They say goodbye, and Raven is totally convinced that the next time she sees Nick he's going to propose. Right?
The final day rolls around, and Nick is moodily walking through the woods again, wearing nothing but a long-sleeved tee, trying to figure which girl to propose to. He arrives at a cozy cabin (can you just walk into whatever adorable cottage you want in Finland?) and stops to have a think about his hard choices. Nick is sitting alone at a table when there's a knock on the door. Why it's Bachelor jeweler Neil Lane, who flew halfway around the world just to show Nick two expensive diamond rings.
While Nick picks a ring, the women get ready. And Vanessa rattles off the reasons why she's just not quite sure if she's ready to get engaged: She doesn't know where they would live. She's not sure if Nick can compromise. But Raven has no such concerns. She's just ready to go to sleep with her ring on. Nick primps and monologues as the music swells. This could all still blow up in his face, he says. 
He's waiting in a candlelit room when Raven pulls up outside. Chris Harrison cheerfully lets her in and takes her coat while she psychs herself up to go into the room where Nick is waiting for her.
Raven goes right over to him and they hold hands while she recites a speech to him about how in love they are and how sure she is about their relationship. Nick looks away with tears in his eyes — not a good sign, Raven!
He tells her that he's grown to care about her and respect her over the time they've known each other and about how much love he has for her. But, he says, he doesn't know if he's in love with her. His heart is somewhere else. Eeek!
He's says he's torn up inside letting her go, and Raven tearfully nods up at him, but she says she doesn't regret telling him how she feels. All in all a classy exit for Raven. They hug, and Nick apologizes and kisses her on the cheek. Then he sends her off in a car.
Raven's exit interview is sad but not as tearful as we might have thought, given how giddy she was the day before. She does let a single tear roll down her cheek though.
Now Nick is just waiting for Vanessa to show up, and he can finally tell us just how in love with her he is. He's been fighting his feelings for her, he says, but he's not fighting any longer. He's ready to ask her to marry him.
Vanessa finally rolls up, monologuing about whether or not she's ready to be engaged to Nick. She wants to say yes, she says, but she's not sure if Nick is actually ready for real love.
The first thing Nick tells Vanessa is that he'll never forget the first moment he saw her get out of the limo, and the first moment he realized he was falling in love with her. Nick cries a lot while he tells Vanessa how truly in love he is.
Vanessa's got a speech, too, and she tells Nick how happy he makes her and how ready she is for their future. Nick kneels down and pulls out the ring, and, despite all her back-and-forth over the past two hours, she says yes.
That's a wrap, folks. Nick Viall finally got his happy ending. He offered Vanessa his very last rose, and she accepted. Now they can ride off happily into the sunset together. We'll see you on Dancing With the Stars, you crazy kids.
Mic has ongoing coverage of The Bachelor. Check out our main Bachelor hub here.