European Union court rules employers can ban Islamic headscarves in the workplace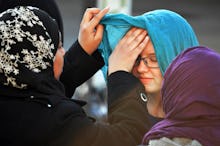 A European Union court ruling on Tuesday is giving employers the green light to ban visible religious symbols in the workplace, including Islamic headscarves.
According to the Guardian, the ruling stipulates that in order to enforce such a policy, workplaces must have a blanket ban on religious symbols officially on the books — employers can't simply tell an employee to remove their hijab, for example.
The European court of justice handed down the decision after hearing two cases, both related to Islamic headscarves. The first involved a receptionist at a Belgium-based company, who, after three years of working there, decided she would begin wearing a headscarf for religious reasons. In June 2006, however, she was fired for refusing to remove it on the grounds of a supposed company-wide ban on religious symbols.
In the other case, a woman was fired from a consultancy firm after a customer complained that she'd been wearing a headscarf. The company claimed its management had warned the woman her headscarf might upset customers.
Europe knows a long history of dispute over traditional Islamic garb.
Currently, the Netherlands, France, Belgium, Bulgaria, Switzerland and Italy all have some sort of ban on face veils, with many promising hefty fines and even jail time for violations. 
In August, controversy flared over a "burkini ban" in Cannes, France, which prohibited women from wearing full-body bathing suits on the French Riviera. While France's top administrative court later ruled against the ban, 28 of the 30 mayors in favor of the policy refused to honor the court's decision and vowed to continue enforcing the ban. 
Months later, German Chancellor Angela Merkel called for a burqa ban in a Christian Democrats party conference address announcing her bid for re-election.
"The full-face veil is not acceptable in our country," Merkel told the crowd at the time. "It should be banned, wherever it is legally possible."
Now, the European court of justice has given Merkel — and the leaders of other European countries — one more place where such a ban is possible.