Blizzard update 2017: Winter storm Stella continues to dump snow, sleet across Northeast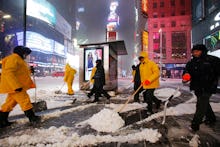 Grab a thick blanket and cue up Netflix: Winter storm Stella has made her much-anticipated debut in the Northeast, blanketing cities like New York, Boston and D.C. in snow.
The nor'easter blizzard prompted a state of emergency across the tristate area, according to ABC News. ABC also reports that Connecticut Governor Dannel Malloy issued a statewide travel ban beginning at 5 a.m. In Pennsylvania, Governor Tom Wolf declared a state of emergency Monday afternoon and urged residents to stay home. "Don't go to work tomorrow," Wolf said at a press conference. "Tuesday is going to be a good day to stay home."
New York City preemptively shut down express and outdoor trains starting at 4 a.m. Tuesday. In Boston, the MBTA shut down the Mattapan trolley as well as the ferry and a third of the blue-level trains.
According to the New York Times, schools in Boston as well as New York City are closed Tuesday. In D.C., the federal government is on a three-hour delay and federal workers in the area have the option for either unscheduled leave or unscheduled telework, according to the federal office of personnel management.
The National Weather Service released a severe weather warning for New York City at 4:25 a.m., estimating sleet and snowfall for the New York City area to range between 8 and 16 inches. The I-95 corridor of Rhode Island and Massachusetts should expect up to a foot of snow and strong wind throughout the day, according to an alert from the National Weather Service.
According to CNN's weather center, the heaviest snowfall is expected to taper off by 9 a.m., but warmer temperatures may turn that snow into sleet, creating dangerous conditions to walk or drive in.