How much snow will Boston get? Updates on how much snowfall Beantown should expect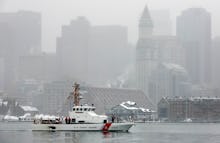 Despite the major winter storm hitting much of the Northeast on Tuesday, Beantown residents woke up to a pretty unimpressive show from Mother Nature, the Boston Globe reported. 
But Boston residents shouldn't think the storm is a no-show — it just hasn't hit its peak yet.
The storm will intensify as the morning goes on, and will be at its peak from 10 a.m. to 3 p.m., the Boston Globe reported, citing information from the National Weather Service. The NWS predicts the snowfall total for Boston will be somewhere between eight and 12 inches, with inland areas to the west expected to get even more snow. Worcester, Massachusetts, is expected to get between 12 to 18 inches.
Boston Mayor Marty Walsh announced at a press conference that Boston public schools would be closed on Tuesday. Several surrounding cities and towns, including Cambridge, Somerville, Brookline and Newton, also closed public schools for the day, WBUR reported. 
Walsh urged Boston residents to stay off the roads on Tuesday to allow snow crews to clear them. The MBTA is running normally; in a press conference on Monday, Massachusetts Governor Charlie Baker urged residents to use public transportation instead of driving, CBS reported.