March Madness 2017 livestream: How to watch the NCAA basketball tournament online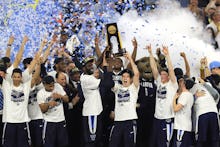 Make sure those brackets are filled: The NCAA's March Madness tournament is fast approaching. 
The tournament is set to begin on Tuesday and Wednesday with First Four doubleheaders, but things will really heat up on Thursday, with 16 games scheduled throughout the day. Another 16 are scheduled for Friday. 
The championship game will happen April 3 at 9 p.m. at the University of Phoenix in Glendale, Arizona, and will air on CBS. 
How to watch the games online
Need to watch online instead? The games will be streamed on NCAA March Madness Live and the NCAA app, and require a cable subscription to watch. 
According to the NCAA, all 67 games of the 2017 tournament will air across four networks: TBS, CBS, TNT and truTV. If you have a cable subscription, you can watch the games on those networks' online streaming services.
CBS is broadcasting 24 of the 67 games, including the national championship and Final Four. You can watch them on CBS' app or website them via phone, tablet or computer, according to NBC News.
The remaining 43 games will be broadcast across Turner-owned TBS, truTV and TNT. Watching them online will require a cable login, but Turner is offering a free three-hour "grace period" on most devices, NBC News reports. 
"You could get some 40 devices to watch all the games for free, but getting cable service might be cheaper," NBC News pointed out.
That grace period isn't available if you're using a streaming device, such as Apple TV, Roku or Fire TV.