Rex Tillerson used email alias "Wayne Tracker" to discuss climate change, New York AG says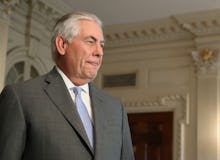 Yet another member of the Cabinet is in hot water thanks to email issues.
New York Attorney General Eric Schneiderman is accusing Exxon Mobil of not disclosing emails Secretary of State Rex Tillerson sent about climate change during his time as CEO. The emails were pertinent to an investigation into whether Exxon misled its investors and the public at large about what the company knew about climate change, the Wall Street Journal reported. 
According to the Journal, Schneiderman said Tillerson used the pseudonym "Wayne Tracker" to discuss climate change issues when he headed up Exxon Mobil.
And while Exxon handed over "Wayne Tracker" emails to investigators in response to a subpoena, it failed to tell investigators that those emails were actually sent by Tillerson. 
In a letter to New York State Supreme Court Justice Barry R. Ostrager, Schneiderman's office also accused Exxon of obstructing, "The production of documents from its top executives and board members, which are crucial to OAG's investigation into Exxon's touted risk-management practices regarding climate change."
Exxon did not deny that Tillerson used the pseudonym, but said his communications under the name were not "exclusively climate related," according to the Journal.
New Environmental Protection Agency head Scott Pruitt is also mired in an email controversy.
Emails Pruitt sent while serving as Oklahoma's attorney general revealed his cozy relationship with oil and gas companies at the same time Pruitt was suing the EPA over regulations that sought to prevent those companies from polluting the country's natural resources, the New York Times reported.
March 14, 2017 10:23 a.m.: This article has been updated.