Snoop Dogg holds gun to Donald Trump impersonator in BadBadNotGood music video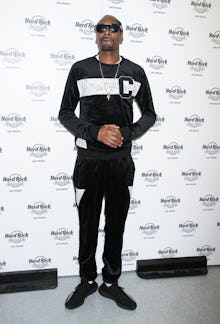 In the latest music video for Snoop Dogg's Nightfall Remix of BadBadNotGood's "Lavender," the rapper takes aim at President Donald Trump. Snoop hops on the remix of the song that was featured on the group's 2016 album IV. The original version of the song just featured Kaytranada.  
The rapper plays an anchorman in a world of clowns. Everyone's faces are painted to resemble clowns, and there is even a cameo from a Trump impersonator, called Ronald Klump. 
The video is a satire of the current political climate in America. The Trump impersonator in the video holds a press conference to announce he is deporting dogs. Yes, dogs. 
Near the end of the music video, Snoop takes matters into his own hands. He grabs a gun and meets the Trump impersonator in a parking lot. He fires it at him and a flag that reads "bang" is released from the gun. 
For the rapper, taking part in the song was to give real people a voice. It all came to him when he first heard BadBadNotGood's original version of the song with Kaytranada. "I love what they, BadBadNotGood, do. Shit feels so real," Snoop explained. "And when I heard the instrumental on their album I had to do it," he said in a press statement.
Partnering with YouTube star Jesse Wellens, who directed the video, gave him the opportunity to speak out. "Making a song that was not controversial but real, real to the voice of the people who don't have a voice. It's not like Jesse told me to make a record to express what I'm expressing on the song, but there were certain things that he said that brought that feeling, to make me want to express that when I was writing," Snoop Dogg told Billboard.  
The rapper did not mince his words when it came to the clown theme in the video. "The whole world is clownin' around, and Jesse's concept is so right on point with the art direction and the reality, because if you really look at some of these motherfuckers, they are clowns," he said. 
"Lavender (Nightfall Remix)" is set to appear on Snoop's upcoming album, Never Left, which is set for release this year. 
Mic has ongoing music coverage. Please follow our main music hub here.