Syrian Civil War by the Numbers: 6 years in, here's where the humanitarian crisis stands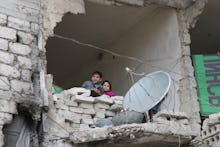 Wednesday marks the six-year anniversary of Syria's bloody civil war, a conflict that has ripped apart a nation and horrified the world. 
Waged between the military forces of Syrian President Bashar al-Assad and an anti-government rebel faction, the fighting has only intensified in the years since it began. 
Below are the grim statistics on the six-year war — also known as one of the worst humanitarian crises the world has ever witnessed.
465,000
People killed or missing since Syria's civil war began in 2011, according to new data from the Syrian Observatory for Human Rights.
4.8 million
Syrians who have fled the country since the conflict began.
6.3 million
Number of internally displaced people inside Syria's borders, according to MercyCorps.
50
Approximate percentage of the Syrian population forced to flee their homes.
850
Estimated number of children who were recruited to fight in 2016 alone, according to UNICEF.
2.8 million
Civilians currently trapped in hard-to-reach areas.
5.8 million
Syrian children currently in need.
280,854
Number of people currently living in besieged areas. 
47 
Number of years the al-Assad family has been in power in Syria.
$4.63 billion
Aid dollars requested by the United Nations to help Syria in 2017.