Ivanka Trump wants her brand to be relatable — so she's no longer selling $25,000 jewelry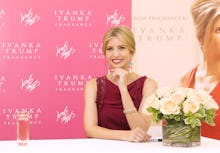 Well, if Saturday Night Live knows anything at all, maybe Ivanka Trump is just making room in her empire for a new fragrance. 
Vanity Fair reported Friday that Trump's high-end jewelry line, which comprised of diamond and gold jewelry priced between $400 to $25,000 and recently kept on reappearing on Neiman Marcus' website and causing a fuss, would be no more. 
The line, which was launched in 2007 when Trump was mostly known as a model and the child of a very rich man, has just become a hindrance to her makeover into being an accessible, relatable woman, despite growing up in a Manhattan, New York, tower that resembles the home of Elvis Presley more than any suburban sprawl imaginable.
As far as the reasons why the Ivanka Trump brand is dropping its high-end jewelry line, its president said it is indeed refocusing on jewelry that is more affordable and accessible. As a reminder, now that she's the first daughter, Trump did leave her day-to-day duties at the company, but she still owns it and gets paid.
"As part of our company's commitment to offering solution-oriented products at accessible price points, we have decided to discontinue the Ivanka Trump Fine Jewelry collection," Ivanka Trump brand president Abigail Klem said in a statement. "We will be focusing our efforts on existing and new categories that are most relevant to our loyal customers — including fashion jewelry, which successfully launched last fall with price points that are aligned with the rest of our collection." 
Just like that, out go the $5,000 rings, and in comes her more affordable line, which has earrings and bracelets and necklaces for less than $100. 
According to reports, it's not a bad move. As Refinery29 reported earlier this month, the average Trump customer is between 25 and 40 years old, and makes between $60,000 to $100,000. 
So, not exactly a customer who would thoughtlessly shell out $15,000 on a ring.
What does this move mean for Trump? Despite being criticized by the press for trying to capitalize on her new peripheral position in the White House, she's pushing on, with a brand makeover so it's more accessible and appealing to the women she now suddenly wants to impress. 
Now, she won't be trying to sell to the Melanias and Ivankas of the world — but to you.