Model Starlie Smith posts a love note to herself and others struggling with acne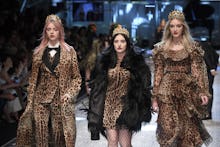 Models have started to get more and more outspoken about some of the things society has long pegged as "flaws." Chrissy Teigen's talking about her stretch marks. Ashley Graham's talking about her cellulite. And now, model newcomer Starlie Smith is talking about acne. 
On Instagram on Sunday, the model posted a picture of her bare face, flaunting what looks like a cheek full of acne, with a message: "Who cares if you have acne you are beautiful."
The post came just a few days after people on Reddit pointed out that her acne was visible when she walked the runway for Dolce & Gabbana. 
At the end of her post, she noted that the message was a bit of a love note to people like her. "A love note to myself and others struggling," she wrote.
In an age when seemingly airbrushed skin is the norm on social media, a post like this is undoubtedly refreshing. By posting this image, Smith is letting her followers know that being a model and having acne aren't mutually exclusive at all.