Winter Storm Stella flight cancellations: Thousands of flights canceled due to storm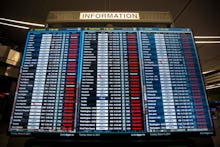 Hope you brought your neck pillow to the airport, because it's going to be a long wait. 
How many flights have been canceled Tuesday?
As of 11:15 a.m., 6,227 flights have been canceled Tuesday in the wake of winter storm Stella, according to recent data collected by tracking service FlightAware.com. More than 8,000 flights across the U.S. have been canceled since Sunday, USA Today reported Tuesday.
Southwest Airlines has reportedly grounded all flights at 14 airports stretching from Washington, D.C. to Portland, Maine, canceling roughly 900 flights. Meanwhile, American Airlines, JetBlue, and United Airlines have all canceled more than 500 flights apiece, according to the AP. 
The largest cancellations so far today have come from New Jersey's Newark Liberty International airport – a combined 1,022 for incoming and outgoing flights. In second place is New York's La Guardia airport, which has so far canceled 856 flights on Tuesday.
Boston's Logan International has seen a total of 815 cancellations Tuesday, and Baltimore's Washington International has canceled around 500 flights.
Flights are canceled for Wednesday, too
As of 11:15 a.m., FlightAware reports 762 flights have been canceled for Wednesday. 
In a statement Tuesday morning, FlightAware CEO Daniel Baker said that number is expected "to rise significantly for Wednesday morning as airlines get their operations back online," according to USA Today.