Darren Wilson called black people "niggers" on duty, lawyer denies it was derogatory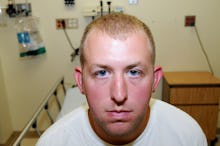 Former Ferguson, Missouri, police officer Darren Wilson referred to black people as "niggers" while on duty, according to a December court filing obtained by the Washington Post.
The filing — part of a civil suit brought by the family of Michael Brown, the unarmed black teenager Wilson killed in August 2014 — contains 173 sworn "admissions" from the former officer. Several of these include concessions that Wilson and his fellow police used the racial slur at work.
"You have used the word 'nigger' to refer to an African-American on at least one occasion," Wilson was asked.
"Admitted," Wilson replied, through his attorney.
"You have heard fellow officer(s) at Ferguson Police Department use the word 'nigger' to refer to an African-American on an least one occasion," he was asked.
"Admitted," Wilson replied through his attorney.
Wilson explained at the time that he only used the word when echoing someone else.
"I have repeated a racist remark made by someone else," he said, "but I have not made a racist remark against another individual while on duty as a police officer."
Wilson's attorney, Greg Kloeppel, stated in an email to the Washington Post that Wilson only used the term when repeating or reporting what was said to him by a victim, witness or suspect during an investigation.
"Officer Wilson did admit in discovery responses that he used the n-word and has heard former officer(s) use the n-word on at least one occasion but, he did so while repeating/reporting what a victim, witness or suspect etc. relayed to him while conducting an investigation or preparing a report," Kloeppel said. "He never used the n-word to refer to an African-American in a racist or derogatory manner and he never repeated a racist joke while on duty."
If Wilson never made a racist joke while on duty, many of his former colleagues in the Ferguson Police Department cannot say the same. The findings of a 2015 Department of Justice investigation revealed that Ferguson police regularly engaged in racist practices, including exchanging racist emails and jokes.
The emails — collected in the DOJ's subsequent report — include a photo of shirtless African tribeswomen captioned, "Michelle Obama's high school reunion." Another contains the following passage:
"A black woman in New Orleans was admitted into the hospital [for a] pregnancy termination. Two weeks later she received a check for $5,000. She phoned the hospital to ask who it was from. The hospital said, 'Crimestoppers.'"
A grand jury declined to indict Wilson for killing Brown in November 2014, sparking riots in Ferguson and spurring protests nationwide. The former officer has lived in obscurity ever since. But the Michael Brown case continues to resurface on occasion. 
Over the weekend, for example, newly aired footage from the upcoming Ferguson documentary film Stranger Fruit added a wrinkle to the case. For years, Darren Wilson's apologists have used surveillance footage of Brown tussling with a convenience store owner over a box of cigarillos as evidence that he was a violent thief. 
But the new footage suggest that Brown and the store owner may have been involved in an illicit business transaction, according to filmmaker Jason Pollock: the box of cigarillos in exchange for a bag of marijuana. The old incriminating footage, Pollock claims, actually showed Brown trying to collect his payment.
Willson killed Brown later that afternoon.