Don Draper's failed pitch for Heinz in 'Mad Men' season 6 is actually becoming a reality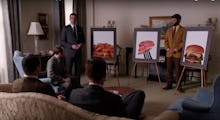 It turns out even Don Draper gets a second chance at success. The tortured antihero of the hit series Mad Men did not land his pitch to Heinz Ketchup decades ago, but the campaign will see the light in 2017. Adweek reports the starkly simplistic advertising campaign "Pass the Heinz" will be featured in "print and out-of-home executions" in New York City.
"Pass the Heinz" was pitched by Don Draper and Stan Rizzo in the episode "To Have and to Hold," which ran in season six. The pitch, which was called "Project K," presented a straightforward concept featuring close-up photographs of food often accompanied by ketchup, like a cheeseburger, french fries and steak. The photographs were accompanied by the slogan, "Pass the Heinz."
Draper's pitch did not succeed on the series, due to the client's discomfort with its stark simplicity. "It feels like half an ad," the client says in response to the pitch. The 2017 launch will feature each of the images on a billboard in NYC, as well as in the New York Post and Variety and on social media. 
The Heinz success is the latest proof of the lasting popularity of Matthew Weiner's acclaimed series, which premiered in July 2007 and launched its leading man Jon Hamm into stardom. 
Given that the pitch itself was first introduced on a fictional television series, questions have been raised as to whom the idea will be credited. Adweek states "the ads are officially being credited to Heinz's current agency, David Miami, and to Don's fictional 1960s firm, Sterling Cooper Draper Pryce. (Draper and Mad Men creator Matthew Weiner, who approved the idea, are both listed in the credits)."
Perhaps the campaign's present-day success was inspired by President Donald Trump's recent, widely publicized, dinner of a steak well-done and doused in ketchup. 
Mic has ongoing Mad Men coverage. Please visit our main Mad Men hub.