Winter Storm Stella School Closings Update: New York and Boston among school closures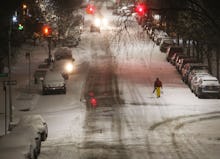 Winter Storm Stella is currently pummeling much of the Northeast United States with heavy snow and strong winds, resulting in school closings in states that are in the path of the late season storm.
Schools in Boston, Philadelphia and New York City were closed on Tuesday as the powerful nor'easter brought the worst winter weather of the season to the region.
Washington, D.C. public schools opened two hours late Tuesday morning. Other schools in the D.C. area closed entirely. Baltimore public schools were closed Tuesday, as well. 
City schools in Cleveland, Akron and other districts in Northeast Ohio also canceled classes on Tuesday; the region is expected to receive up to a foot of snow due to Stella, as well as lake-effect snow from Lake Erie. 
A number of universities — including in Philadelphia and New York — canceled classes on Tuesday, and the storm is also expected to present challenges to college basketball teams traveling in the region for the March Madness tournament; some first round games will be played in Buffalo, New York, which is right in Stella's crosshairs. The first round begins on Thursday. 
The storm moved through the Midwest early Monday morning before pushing into the Mid-Atlantic and Northeast. The worst of the storm is expected to come during the day on Tuesday, with some snow and gusty wind likely in places on Wednesday, as well.