What is October Firm? What we know about Drake's mysterious project behind 'More Life'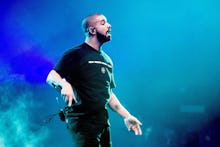 Drake continued to tease his upcoming project More Life on Monday.
The rapper posted the artwork on Instagram, but it's what's written on the cover — "A playlist by October Firm" — that alludes to something more. The long-awaited project is set to drop Saturday, March 18, after Drake teased it for months. While little is known about it, Drake just added more pieces to the puzzle.
It all began in January 2016 when the Instagram account for something called October Firm launched. In the very first post, it promoted an Ovo Sound radio episode hosted by Drake with a guest mix from October Firm. In the caption, October Firm is credited as a collaboration between Drake and Ovo co-founder Oliver El-Khatib. 
More than a year passed without any additional posts. As Drake's mysteries continued, it all became even more baffling when the account posted a video on Monday. 
The video features footage from what appears to be Drake's Boy Meets World tour and ends with a teaser for More Life. The caption reads, "More Life, A Playlist by October Firm 3/18/2017."
Also worth mentioning is that the activity on the October Firm Instagram account happened around the same time on Monday when Drake posted the artwork for More Life on his own account.
Adding even more to the mystery, an October Firm website has launched featuring the More Life release date and nothing more. 
Reddit users are speculating that it means Drake and El-Khatib are confirming their own musical partnership. The upcoming release could possibly be a collaboration between the two. 
In February, in an extensive interview with DJ Semtex, Drake revealed that the Views follow-up was an "evolution of the mixtape." He also compared it to an Ovo Sound radio show, but made it clear that every song is a new Drake song. 
We'll have to wait and see when More Life drops on Saturday, March 18. 
Mic has ongoing Drake coverage. Please follow our main Drake hub here.