Speaker Paul Ryan said in October call that he wouldn't defend Donald Trump again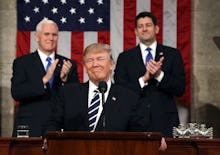 House Speaker Paul Ryan told fellow Republicans in an October conference call that he was "not going to defend Donald Trump — not now, not in the future" — after the emergence of a hot mic tape that captured Trump making crude comments about women.
The existence of the Ryan recording was first reported Monday by Breitbart, the conservative news site once operated by top Trump adviser Steve Bannon.
A month before the 2016 election between Trump and Democratic rival Hillary Clinton, the Washington Post ran a bombshell story about a 2005 hot mic tape in which Trump told Access Hollywood host Billy Bush that he could do anything with women, up to and including "grab[bing] them by the pussy."
The boast was immediately slammed as misogynistic and approving of sexual assault, including by Ryan, who said he was "sickened" by the comments and disinvited then-GOP nominee Trump from a Wisconsin campaign event.
The call reported by Breitbart suggests Ryan went even further than condemning the lewd commentary, saying he would never stick up for Trump again and would leave his colleagues to do as they saw fit.
"His comments are not anywhere in keeping with our party's principles and values," Ryan said on the call, per Breitbart. "There are basically two things that I want to make really clear, as for myself as your Speaker. I am not going to defend Donald Trump — not now, not in the future."
Ryan, after much hedging, had already quietly endorsed Trump in June.
In the October call, Ryan reportedly said that while he had serious problems with Trump, "the last thing we need is four more years of Obama policies or two years of a Clinton presidency with a Democrat Congress. Could you imagine what that would look like?"
Ryan spokesperson Brendan Buck told Breitbart that there wasn't much news in the call.
Bannon's old news site's report on the Ryan call comes as the White House and GOP launch an effort to sell the country — including skeptical Republicans — on a replacement of Obama's Affordable Care Act with a plan that could see 24 to 26 million Americans lose health insurance by 2026.
"This new audio file raises questions as to how loyal Ryan is to Trump politically — and is asking the new president to use precious political capital to push through legislation that seems arithmetically destined for congressional failure," Breitbart reported.