'RuPaul's Drag Race' Season 9 Review: Don't be a drag, just be a queen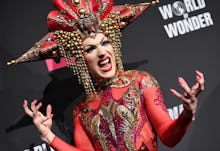 Everything about RuPaul's Drag Race is a bit newer this season. There's a slightly updated workroom with just enough new touches to keep things fresh. Queens offer up their confessional hot takes in a new space. The first challenge takes place on a new runway — albeit one that, from the trailer, looks temporary. And of course, the biggest change of all is that Drag Race now airs on VH1.
For the most part, the last change has minimal effect on the season nine premiere. The season was shot before the channel hop, and any nips or tucks to the show seem to be more about its breakout success last year, which included two incredibly successful seasons and an Emmy for host RuPaul. Drag Race may never be totally mainstream, but it's hardly an underdog anymore.
That, frankly, may not be a good thing. While entertaining — hey, it's still Drag Race — Friday's season premiere is a pretty sizable step down from the all-time great openings of season eight and All Stars season two. The beloved reality competition is standing in a bigger spotlight than before, and despite all its bravado, Drag Race seems a little nervous about the larger stage.
The premiere's biggest news was the guest judge: Lady Gaga, who pretends she's one of the contestants before revealing her true identity. It's a cute gag, but a forewarning of what's to come. Most of the episode is about Gaga; precious little time is spent meeting the queens, especially in comparison to the previous two season premieres.
Gaga herself, however, holds up her end of the bargain. She is dynamite, knowledgeable about both Drag Race and the greater world of drag. She's the kind of guest judge viewers will crave as a regular member of the panel. This is not a pop star dropping by to check in — like her appearance on American Idol years ago, she seems really invested in the queens' success. 
Speaking of those queens: So far, this seems like a great bunch, with the likability of season eight's cast but a bit more willing to start drama. Larger-than-life personalities like Eureka O'Hara and Nina Bo'Nina Brown stand out, while it's easy to see who will fade into the background early on.
It's just a shame how little time we get to spend with them during the premiere. There's a long season ahead, of course, and we'll have plenty of time to get to know the new queens. But as great as Gaga is, she's something of an attention magnet.
Drag Race is at a turning point, and what becomes of season nine will mean much for the series' fate. Will the show's LGBTQ audience keep showing up to watch, even though the series now airs on Fridays? If the quality is consistent from All Stars season two, probably. If there's a dip, there are no guarantees.
Here's what we can tell from the premiere: Given the right challenges and story editing, this cast could really turn a show. But from what we've already seen, season nine is hardly a safe bet. This premiere, with a decent-if-underwhelming challenge, doesn't showcase the cast very well. Hopefully, the first episode's nervous energy will dissipate by the second.
At the end of the day, this is Drag Race. Watching incredibly talented drag queens perform at the peak of their abilities is never going to be anything short of thrilling. Whether the reality show around them is compelling, on the other hand, is the issue — one that could make or break the series' ability to be the massive hit it can be.
RuPaul's Drag Race season nine premieres on VH1 at 8 p.m. Eastern on Friday. Encore presentations of the premiere will air on Logo.
Mic has ongoing RuPaul's Drag Race coverage. Follow our RuPaul's Drag Race main hub here.