Golden State Warriors' Andre Iguodala fined $10K for joking about working for the "master"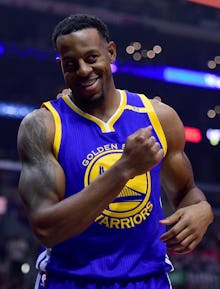 The NBA fined Golden State Warriors small forward Andre Iguodala $10,000 for making racially charged remarks to the press after the team's loss to the Minnesota Timberwolves on Friday, according to the Root.
After the Friday night game, Iguodala was asked if he knew whether teammates Steph Curry, Klay Thompson and Draymond Green were going to be sitting out for Saturday's game.
"Nope, no clue," Iguodala said. "I do what master say."
Media organizations, including ESPN, inferred that "master" was in reference to Coach Steve Kerr, who is white. Iguodala has denied that he was referring to Kerr. According to ESPN, Iguodala explained his remarks, saying he meant no disrespect and that it was based on a locker room joke. Iguodala also reportedly used an anti-black slur during his press conference on Friday.
Before the NBA announced the fine, Iguodala expressed his regrets on Monday night for making the off-color "master" joke.
"I feel like it's the wrong time because it puts my team in that situation and coaching staff in that situation," Iguodala said. "I have a great relationship with Steve Kerr, and he knows that. Steve spoke to you guys about it; you know what I mean. Steve, in his words, someone still may not believe him, but he and I are in a great place. We don't even have to speak about it because he knew that in no way, shape or form that I'm talking about him."
Kerr has also told members of the press that he did not take any offense to Iguodala's comments. The coach said that Iguodala often makes these cryptic remarks and the press were just "Andre'd."
"Andre is one of those guys who likes to stir the pot and has a lot of cryptic messaging at times," Kerr said. "He jokes around. I didn't take anything from it. It's just Andre being Andre."
Kerr did, however, say that Iguodala's comments should've been reserved for the locker room and not at a press conference.
"First of all, he wasn't talking about me, just for the record," Kerr added. "He and I have talked, and that'll remain private. I wasn't the slightest bit offended. I think, as I mentioned the other night, he has a very cryptic sense of humor. Only thing I would say is, there's certain humorous things you should say in the sanctity of the locker room, and certain humorous things you might want to keep from the media, and that was one of them, and he knows that."
Locker room joke aside, Iguodala's comments call up previous conversations about black NBA players and slavery. Sportscaster Bryant Gumbel pointed this out rather frankly back in 2011 when he compared NBA commissioner David Stern to a "plantation overseer."
"[Stern's] efforts were typical of a commissioner, who has always seemed eager to be viewed as some kind of modern plantation overseer treating NBA men as if they were his boys," Gumbel said, blaming the NBA lockout on Stern.
Almost six years later, Twitter users shared Gumbel's sentiments in regard to Iguodala's "master" comment: