Everything we know about Drake's 'More Life' before the March 18 release date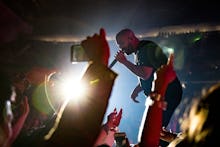 After numerous delays and several supposed release dates teased and ignored, Drake finally looks like he's ready to release More Life, his upcoming "playlist project," on Saturday, March 18. The Toronto rapper will likely debut it through his OVO Sound Radio show on Apple Music.
Drake started teasing the project back in October, when he released four tracks — "Two Birds One Stone," "Sneakin,'" "Fake Love" and a remix of Dave's "Wanna Know."  Below is everything we know about the record, from the proposed track list to likely guests to what it will sound like, as we prep for Saturday. 
Drake's More Life is a playlist, not a mixtape
In keeping with the likely OVO Sound Radio release, the album will function and feel more like a radio playlist than a mixtape.
"The style in which its being put together is based on the concept of OVO Sound Radio," Drake told DJ Semtex in a recent interview. "I basically asked myself 'What if I did it like OVO Sound Radio but every song was a new Drake song?' It's more like an evolution of a mixtape."
The playlist will also largely function to help OVO affiliates and other up-and-coming artists get their music out there. Frequent Drake collaborator Nineteen85, one half of the R&B duo dvsn, described More Life as an overflow of creative energy brimming after Views: 
'More Life' is interesting because this is [Drake] right on the peak of his biggest project yet [with 'Views'], doing his biggest tour, and still having so many good ideas that he just wants to put out without making it a big ordeal. ... That's why he's trying to call it a playlist because he has a bunch of people in a space, hanging out. ... He's so aware of what everybody else is doing musically that he likes to introduce new music and new artists to the rest of the world.
Drake More Life collaborators and features
The project will likely include the four previously released tracks, "Sneakin,'" "Fake Love," "Two Birds, One Stone" and the "Wanna Know" remix. 
That first track, "Sneakin'," features a verse from 21 Savage, whom Drake has been seemingly trying to court in recent months. He bought the Atlanta rapper a Ferrari for his birthday in October, just before Drake released his first batch of More Life tracks.
A recent Drake Instagram styled More Life as being "By October Firm," potentially another name to refer to his label October's Very Own, nodding to Britain's "firms" or crime families. It's safe to assume we'll be hearing from some of OVO's major players — dvsn, Roy Woods, PartyNextDoor, OB O'Brien, and Majid Jordan.
Drake has also seemingly been collaborating with Jennifer Lopez, Kanye West, Future and Bryson Tiller to varying degrees. The Views rapper was rumored to be premiering a new song with West, titled "Lost Hills," during Kanye's Yeezy season five show, but that has yet to surface. Trapsoul singer Tiller also tweeted a very direct More Life tease in December.
Drake More Life album cover
The cover is a picture of Drake's father, Dennis Graham, smoking a pipe in a bowtie and white shirt, writing on a pad. Graham announced plans to launch a solo career in 2016 and released his first single, "Kinda Crazy," in December. It seems it didn't sell like he thought it would, and in mid-December, the artist lashed out at his friends on Instagram: "I will be deleting all my so called friends on Instagram who hasn't purchased my 1.29 Kinda Crazy single how cheap can friends be have a nice life!"
Perhaps Drake will give his pops another chance to shine on More Life, though only the OVO family likely knows at this point.
Drake's More Life track list and music
Although Genius has a track list, Drake hasn't confirmed if it's the official track list for the album as of yet, and may not before Saturday's drop. As for the sound, judging by the first four singles that may appear on the album, he's pushing more of the same light tropical vibes that slayed on Views and digging back into some of the dark, brooding trap of If You're Reading This It's Too Late. The title comes from a piece of Jamaican slang, popularized by the song "More Life" by dancehall artist Vybz Kartel.
"I want to give you a collection of songs that become the soundtrack to your life," Drake said on his OVO Sound radio show in October. "I'm just really excited. I had a great tour, I had a great summer. And most people, I guess, would like go probably take a break. But for me I just want to get right back to it. Be with the people again."
More Drake news and updates
Mic has ongoing coverage of Drake's rise from mixtape sensation to chart-topping icon. Read our coverage of Drake's dominating 2015 and his record-breaking 2016, from Views becoming the first in 2016 to hit a million sales, to his becoming Spotify's most-streamed artist to a close look at his meme mastery. Check out our look at whether all the Views hype was deserved and how the rapper can do better in 2017.