These photos illustrate the ongoing crisis in Syria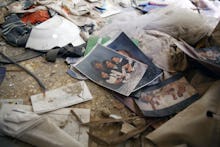 Wednesday, March 15, marks a grim anniversary for Syria: six years since the country's bloody civil war first began.
The violence in Syria has resulted in the displacement of nearly half of the country's population and an estimated 321,000 deaths since the war began in 2011. 
Below are photos of how the conflict has progressed since anti-government rebels first began clashing with Syrian President Bashar al Assad's army.
2011
2012
2013
2014
2015
2016
2017