'Designated Survivor' Episode 12 Spoilers: What will happen in "The End of the Beginning"?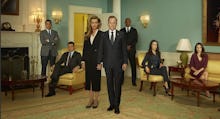 After a lengthy winter hiatus, ABC's Designated Survivor finally returned last week. Following the winter finale, the biggest question for fans of the political thriller was who took the bullet meant for President Tom Kirkman? And we learn pretty quickly that it was indeed the president who was hit in the assassination attempt. Fortunately, though, Kiefer Sutherland is not being written off the show just yet — Kirkman survives the assassination attempt.
Still, while the bullet appeared to miss any major organs, Kirkman is forced into surgery in "Warriors," as metal fragments remain near his lungs. This necessitates the president's Cabinet to use the 25th amendment to temporarily grant the powers of the White House to the new vice president, Peter MacLeish. The problem with this is that, unbeknownst to the president — though he suspects something — MacLeish was involved with the Capitol bombing. 
Fortunately, Kirkman makes it out of surgery without complications, and quickly resumes his duties as president of the United States. Now, the second half of Designated Survivor's first season is set to further unravel the mystery behind the Capitol bombing. In the final moments of the midseason premiere, Hannah Wells gets her chance to speak with the president, presumably about her knowledge of MacLeish's connection to the terrorist attack. 
Wednesday night's episode is likely to expand upon Wells' meeting with the president. In episode 12, titled "The End of the Beginning," Kirkman is going to have to rely on those he can truly trust, because not only is his vice president a traitor, but it is also still unclear whose side chief of staff Aaron Shore is actually on. And it is becoming clear to Shore that he is under considerable scrutiny. 
For more on Designated Survivor, here is the official synopsis for "The End of the Beginning": 
Circles must tighten as a new discovery within the conspiracy emerges. Meanwhile, tension rises between Aaron and Emily as suspicions loom in the White House. A new lead places agent Wells closer than before to the truth.
Curious what else may happen the rest of this season? Here is a promo teasing what is still to come:
Designated Survivor airs Wednesdays at 10 p.m. Eastern on ABC. 
Mic has ongoing coverage of ABC television series. Please follow our main ABC hub here.