European Union court rules that employers can ban hijabs in the workplace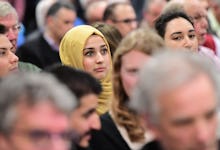 First they came for the burqa. Now they're coming for the hijab.
On Tuesday, the European Court of Justice ruled that employers are allowed to ban the hijab and other religious garments in the workplace, Al Jazeera reported. Several Muslim groups claimed the new decree is a direct attack on Muslim women who choose to wear the hijab at work.
The ruling was given in the cases of two Muslim women in France and Belgium, who said they were fired from their jobs because they refused to remove their headscarves. 
According to the court, an employer rule banning the wearing of "any political, philosophical or religious sign" does not constitute "direct discrimination."
Warda el-Kaddouri, a research fellow at Belgium's Ghent University, said the ruling is an explicit act of discrimination against Muslim women.
"A ban on religious and political symbols feels to me as a disguised ban on the hijab. I cannot think of another symbol that will affect hundred thousands of people in Europe," el-Kaddouri told Al Jazeera. "By stating that veiled women can simply take off their hijab, you imply that the empowerment of women to be in control of their own body and to make individual decisions is reserved for white women only."
Kim Lecoyer, president of Muslim Women Lawyers for Human Rights, told Al Jazeera the ruling justified discrimination based on religious grounds.
"The court could and should have seized the opportunity to put a halt to the multiple discriminations faced by Muslim women and protect their fundamental rights, but they chose not to," Lecoyer said.
The ruling come on the heels of the Dutch general election, during which far-right figures like Party for Freedom's Geert Wilders made notably racist and xenophobic comments about Islam and Muslims. The topic of Muslim immigration has also been a controversial and major issue in the Netherlands and other European countries, as the refugee crisis and its corresponding policies shape the future of the European Union.