'Overwatch' Orisa Release Date PS4, Xbox One and PC: Here's when you can play Orisa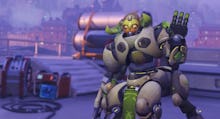 Overwatch's newest character, Orisa, will go live on all platforms on March 21. Blizzard announced the news through the official Overwatch Twitter account and included a short video that shows a bit of Orisa's development process.
The video is a cool look at how the Overwatch team approaches character building. Obviously, before committing a bunch of resources to building out the assets for a new character, they want to make sure the abilities feel good. In Orisa's case, they used Zarya's goth skin with Bastion's gatling gun strapped to her as a placeholder while they tested everything out.
"It was just a combination of cobbled together parts, but it was instantly fun," Kaplan says in the video. "And that's how we knew we were onto a good hero."
Overwatch Orisa release date: Is this Blizzard's new strategy for rolling out characters?
It's worth noting this making-of video and forecasted release date marks a slightly different strategy for rolling out new Overwatch heroes. In the past, new heroes Ana and Sombra spent a week on the public test realm before popping up on the live servers without much warning, but Orisa's been on PTR for a significantly longer period of time. Additionally, the teases leading up to Orisa's official reveal were much quicker and less complicated than the absurd alternate reality game that led up to Sombra's reveal at BlizzCon.
Perhaps future Overwatch character debuts will use a similar, more streamlined and organized process, with longer testing periods on PTR and actual announced release dates.
While you wait for Orisa to make her debut, check out our list of tips and tricks for all of her abilities, and catch up on all the other balance changes on the PTR that are likely to go live alongside Orisa.
More Overwatch news and updates
For more on Overwatch, check out the rest of what Mic has to offer. Here is a list of our predictions for what seasonal events might appear in 2017, a look at a very funny but naughty meme on the Overwatch subreddit, an interview with the creator of an awesome new Overwatch zine, a full explanation of the different types of health in Overwatch, our definitive ranking of every Overwatch hero, a roundup of awesome gender-bent Overwatch cosplay and a giant Overwatch FAQ for beginners.