Idaho judge gave probation in a horrific sexual assault case, now he's under investigation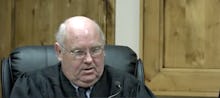 An Idaho state judicial council will investigate judge Randy Stoker, who sentenced 19-year-old former high school football player John R.K. Howard to probation in December 2016 after he submitted an Alford plea for allegedly using a coat hanger to sexually assault his black teammate with mental disabilities, the Idaho State Journal reported. 
Stoker sentenced Howard, the only person charged criminally as an adult, to three years of probation and 300 hours of community service after several witnesses confirmed Howard kicked a coat hanger into the rectum of a black teammate with mental disabilities.
A Change.org petition from Caldwell teacher Monica Ryan that received over 175,000 signatures spurred the investigation. 
"This isn't a case of 'boys will be boys' yet the sentence depicts that cultural attitude," Ryan wrote. "Please assist us in removing Judge Randy Stoker today by signing our petition." 
The Idaho State Journal added that several groups, including the NAACP, criticized Stoker for not taking into account the role that race played in the trial. According to the Journal, witnesses saw teammates and coaches call the victim, Antwon McDaniel, names like "grape soda," "watermelon" and "fried chicken." 
However, according to BuzzFeed, Stoker did not think those counted as racial slurs. 
"The coaches admitted [he] was called fried chicken, grape soda and Kool-Aid, but only because he said he liked those things," Stoker said. 
Howard was originally charged with forcible sexual penetration with a foreign object, but submitted an Alford plea of injury to a child, according to the Idaho Statesmen. The state attorney general agreed that it was not a sex crime because Howard was not motivated by "sexual arousal, gratification or abuse." 
Stoker agreed with the state attorney general. 
"Whatever happened in that locker room was not sexual," he said, according to BuzzFeed. "It wasn't appropriate. There's nothing in this record that supports anything close to the sexual allegation against this young man." 
Stoker also has a history of lenient sentences. In February, Stoker sentenced 20-year-old Cody Herrera to celibacy until marriage rather than prison for his statutory rape conviction of a 14-year-old girl. 
Stoker later blamed social media for the "sexual proclivities" of kids these days. 
"I think it is a direct consequence of the social media system that we have in this country," Stoker said. "I can't tell you how many times I have seen these cases, 'How did this happen?' 'Well, I met somebody on social media.'"
The council overseeing the investigation is Idaho's top judicial oversight board, according to the Idaho State Journal. If they find any evidence of wrongdoing, the investigation then goes to the state's Supreme Court, which can censure, discipline or remove Stoker.