Library named for Charleston shooting victim Cynthia Hurd hit with racist, sexist graffiti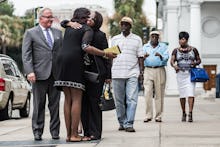 Police in Charleston, South Carolina, are investigating instances of racist, sexist and anti-gay graffiti found on three local buildings Monday, including the Cynthia Graham Hurd St. Andrews Regional Library, named for one of the victims of the Emanuel African Methodist Episcopal Church massacre that claimed nine black lives in June 2015.
The library was named for its former manager, Cynthia Hurd, less than a month after she was murdered by white supremacist Dylann Roof.
"Go to hell black women," the graffiti read, according to WCIV. "Fuck crackers. Fuck da police."
"Fuck yall white devil," was also spray painted on a shed at the local aquatic center. Police are looking into whether the incidents are related. No suspects have been identified.
"There's no place for this sort of deplorable act in our community," Charleston County Councilman Vic Rawl told the Post and Courier. "Our libraries are places of education and growth for children, and we'll assist law enforcement in any way possible."
The Charleston Public Library issued a statement in June 2015 describing Cynthia Hurd as "a tireless servant of the community." All 16 branches of the library were closed in her honor the day after she was killed. Hurd was looking forward to retirement after 31 years working for Charleston libraries. She grew up attending Emanuel A.M.E. Church, where she died, according to WCIV.
Dylann Roof was 21 years old when he sat in on a Wednesday prayer meeting at Emanuel A.M.E. Church before opening fire on attendees, killing nine of them. Roof was arrested, tried and convicted on 33 counts — including murder, civil rights violations and hate crimes — in December. He was sentenced to death in January.