Ohio pizzeria bouncer fired after removing gay couple, saying "This is Trump's America"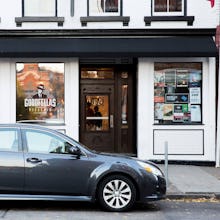 An Ohio pizzeria has asserted that anti-gay discrimination is unacceptable, no matter which way you slice it. 
Goodfellas Pizzeria in Cincinnati's Over-the-Rhine neighborhood fired its bouncer after investigating a disturbing story about a gay couple's recent visit. The couple told WLWT that a Goodfellas bouncer threatened to kick them out for kissing and holding hands.
Bobby Slavens said he and his friends were showing IDs to enter Goodfellas, at which point the bouncer observed Slavens and his fiancé and approached the couple.
"The bouncer came to us and said, 'Hey, you guys need to stop that or you are going to get kicked out,'" Slavens said. "We were dumbfounded." 
Slavens and his partner left without ordering pizza and later wrote about the incident on Facebook. A local reporter captured the posts via screenshot. 
In the post, Slavens said that as he turned to leave, he heard the bouncer say, "You better get used to this, this is Trump's America." 
Goodfellas expressed remorse over the situation in its Facebook response:
We want to assure everyone in our community that we do not in any way condone or tolerate these types of actions. We will not abide by discrimination of any person at any of our establishments.
In a video message posted to a WLWT reporter's Twitter account, the bar manager confirmed the employee no longer works at Goodfellas. The pizzeria also confirmed the termination in another Facebook post. 
"We just want to assure everybody that at Goodfellas Pizzeria, everyone is treated as family, everyone should feel as family," the manager said. "Actions like that are not tolerated or accepted here at this company." 
Community members showed their appreciation for the restaurant's swift action. 
"Thank you for your support and for snuffing out the hate right away," one person wrote. 
"As a member of the LGBT community, I want to thank you wholeheartedly for standing in solidarity with us," another commented. 
Despite the swift action, Slavens told WLWT he and his fiancé do not plan to bring their business back to Goodfellas.