When is it better to pay more? 5 times when being cheap is a bad idea.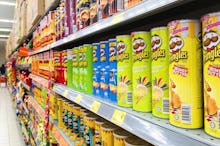 When you're young and broke, life is all about finding good deals. So it makes sense to try to spend as little as you can. After all, there's no reason to pay any more in cell phone charges and bank fees than absolutely necessary.
But there are times when shopping based on price alone is a mistake. Buying the cheapest item can wind up costing you more in the long run — hurting both your health and your wallet.
Here are five times when you shouldn't be a cheapskate.
Going grocery shopping
Buying fresh, nutritious food instead of a 99-cent box of mac and cheese is going to cost you more cash. In fact, healthier diets typically cost about $1.48 day more than poorer-quality diets, according to a British Medical Journal analysis of 27 studies published between 2000 and 2011. That's an additional $540.20 per person each year.
If your food budget is tight, it's easy to get hooked on cheap, processed foods. But food that's high in calories but low in nutrients can do serious damage to your body, including increasing your risk of diabetes and heart disease. People whose diets are higher in processed meat, fried food, refined cereals and sweet desserts are more likely to report depression, according to the Mayo Clinic. All of this can lead to high medical bills and a lower quality of life.
The good news is you don't actually have to sacrifice health, budget — or flavor. There are lots of tasty, healthy types of food you can afford that simply may require planning ahead to prepare: Read up on recipes featuring whole grains, vegetables, fruit, fish, beans, nuts, seeds and healthy fats. And here's Mic's guide to eating healthy, delicious foods for less money.
Picking a health insurance plan
If you're paying for your own insurance, you're probably going to look for a plan with the low monthly premiums. That could be a problem if you ever actually need to use your insurance since lower premiums tend to go hand in hand with higher deductibles.  
While the Affordable Care Act ensures minimum coverage standards, some plans have much higher co-pays and deductibles, while others have really small networks, which strictly limit your choice of doctors. Your "cheap" plan could cost a lot more than you budgeted if your insurance doesn't kick in until you've paid a $5,000 deductible.
Skip health insurance altogether, and you'll pay a penalty of up to $2,085 a year under the current health law. If the Affordable Care Act gets replaced, you could be slapped with a 30% surcharge if you skip coverage for a while, then sign up later. Under the proposed Republican plan, providers can charge higher rates for anyone with a coverage gap of more than two months.
So be smart and get a decent health plan — and use this guide to find one.
Choosing a mattress
Buying the wrong mattress, or sleeping on the same one for too long, can hurt your health and your productivity. A saggy mattress can cause back and neck problems, including chronic pain. This could lead to costly pain medications, chiropractic visits and and even physical therapy or surgery.
If your mattress is so uncomfortable that you can't get a good night's sleep, that can lead to all sorts of other issues, from car accidents to heart attacks, WebMD notes. It can also hurt your ability to concentrate and remember things at work. And that, in turn, can hurt your career.
Don't be put off by sky-high list prices on mattresses. You can often find discounts buy shopping online and checking out sales on Memorial Day, Fourth of July and Labor Day. Check out Mic's guide to buying a mattress so you don't end up with a dud in the bedroom. 
Hitting the clothes racks
If you're buying PJs for lazing around the house, going cheap is fine. But when shopping for work clothes or — perhaps most importantly — shoes, you don't want to just get the absolute cheapest apparel you can find. 
Cheap clothes wear out more quickly, so you end up spending more to replace them. This is especially true for shoes, which can also damage your feet if they don't give you the proper support. Runners should pay extra attention to their footwear, as all that pounding on the pavement puts extra force on your feet. 
At work, "a few quality outfits can make you look like a go-getter that takes pride in your appearance," LifeHacker notes. That doesn't mean you should waste money on designer brands, just that your clothes shouldn't look shabby.
Check out Mic's guide to buying quality clothes on a budget, then learn how to make them last forever.
Hiring professional help
Whether you're hiring a house cleaner or a financial planner, focusing solely on price is a sure way to get low-quality service. The person you hire might seem like a bargain when they tell you their rate, but they can end up costing you more because they don't do the job right or they tack on surprise fees.
If you're hiring a handy person or cleaner online, always check their reviews and try to independently verify their identity to make sure they are legit. When it comes to licensed professionals like financial planners, be sure to check their credentials and whether there have been any public complaints about them. 
Lastly, always check references, because if other people are happy with their work, you probably will be too — even if their fees aren't the cheapest in town.
Sign up for The Payoff — your weekly crash course on how to live your best financial life. Additionally, for all your burning money questions, check out Mic's credit, savings, career, investing and health care hubs for more information — that pays off.