8 songs Pink has written for other artists — from Hilary Duff to Adam Lambert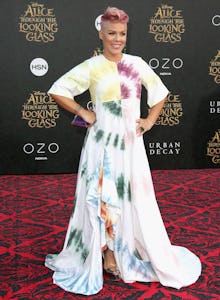 Pink has written many of her own biggest hits over the years. Songs like "Sober" and "So What" were written or co-written by the singer herself. But when she's not busy crafting her own smashes, she's sharing the wealth with her peers.
While she's known for her great vocals and acrobatic abilities at award shows, Pink has also gifted other singers with songs of her own creation. She has worked with everyone from Adam Lambert to Hilary Duff to Cher — because her artistry knows no bounds. 
Here are eight songs Pink wrote for other artists that you may not have known about. 
1. "Whataya Want From Me" — Adam Lambert
Pink can take credit for helping craft Adam Lambert's most successful song, "Whataya Want From Me." Following his season on American Idol, Pink gave the runner-up a song for his post-Idol album. The song was the second single off his debut release For Your Entertainment, and it was an instant smash for the singer. The song is his only Top 10 hit and spent 30 weeks on the Billboard Hot 100. Pink even released her original version of the song:
2. "Take a Picture" — Mya
Who knew that Mya and Pink would make for a solid collaboration? Pink penned the song "Take a Picture" for her "Lady Marmalade" sister for Mya's album Moodring. In an interview with Idolator, Mya let it spill on how the two came to collaborate on the sweet song. "We had a bond creatively that came out of 'Lady Marmalade.' It was our link," she said. And the rest was history. 
3. "I Walk Alone" — Cher
For Cher's most recent record, 2013's Closer to the Truth, she enlisted Pink's talent for two songs. One of them was the uptempo track "I Walk Alone." Pink didn't just write the lyrics, but she is also featured on the song's background vocals. 
4. "Lie to Me" — Cher
Pink's other contribution to Cher's comeback album is "Lie to Me." The stirring ballad is an ode to a lover's indiscretions. For Pink, working with Cher on this album was a dream come true. "It's such an honor," she told Australia's Herald Sun. "I finally feel like a songwriter. And I'm such a fan."  
5. "If You're Gonna Fly Away" — Faith Hill
Leave it to Pink to pen a country song, too. Limiting herself to no genre, Pink and Linda Perry wrote the song "If You're Gonna Fly Away" that eventually went to Faith Hill for her album Cry. The inspiring song is quintessential Hill, but you can hear Pink's signature touch in the lyrics. 
6. "Guns and Roses" — T.I.
After spending some time in the country genre, Pink eventually made her way to the rap world with T.I. The duet, titled "Guns and Roses," was off of T.I.'s album Trouble Man: Heavy Is the Head — and the two sound great together. 
7. "Recovering" — Celine Dion
For Celine Dion's untitled 2017 album, Pink sent her a song after the passing of Dion's husband, René Angélil. There is little known about the upcoming album; we only have this one Pink-penned track, "Recovering," which was released in 2016. Dion was over the moon to have received the song from her friend. "Pink wrote me a song that I'm freaking out about," she revealed to Entertainment Weekly. "You cannot be more excited than me, I'll tell you. I am thrilled not only because I am a fan, but because I know her personally and have met her a few times." 
8. "Outside of You" — Hilary Duff
The Pink-penned "Outside of You" appeared on Duff's album Dignity. But Pink isn't the only person who helped create the track. She teamed up with Raine Maida of Our Lady Peace and his partner, singer and songwriter Chantal Kreviazuk. 
Mic has ongoing music coverage. Please follow our main music hub here.