GOP Rep. told constituent to "shut up" when challenged on Violence Against Women Act vote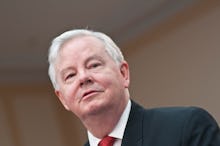 Texas Republican Rep. Joe Barton got into a heated exchange with a constituent at a town hall over the weekend, pointing at a man and telling him to "shut up" after he challenged Barton's stance against the Violence Against Women Act. 
"You, sir, shut up," Barton told the man, who was yelling at Barton and telling him that he represents "Texas first." Audience members booed and grumbled after Barton's outburst. 
"What is that?" one man is heard saying on the video. "You don't tell anybody to shut up!" 
The exchange came after an attendee stood up to ask Barton to work with California Democratic Rep. Jackie Speier on legislation to protect women from violence.
"Given your voting record opposing legislation protecting women from violence, will you make a commitment to us today — make a promise — that you will reach out to Congresswoman Jackie Speier and work with her to see this bill successfully through Congress," he asked.
Barton said he voted against the 2013 VAWA reauthorization — which defined violence against women and reauthorized funding to programs to prevent that violence — because he deemed it a state issue rather than a federal one.
Barton is one of a handful of Republicans in Congress who have faced testy town hall audiences since President Donald Trump took office. Per the video, Barton's town hall was less rowdy than others — including those of Rep. Jason Chaffetz (R-Utah) and Sen. Tom Cotton (R-Ark.), who both faced massive crowds chanting and interrupting during their respective events.
However, Barton's "shut up" comment is one of the more extreme reactions to a rowdy town hall crowd to date.
Barton represents a heavily Republican district in the Dallas-Fort Worth area. GOP presidential nominee Mitt Romney carried the district by a 17-point margin in 2012, according to an analysis by the Cook Political Report, a nonpartisan political handicapping outlet. In other words, that means Barton is unlikely to lose his seat to a Democrat.