iPhone 7s, iPhone 8 or iPhone Edition? Here's what to know about upcoming Apple release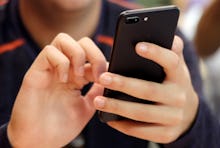 We know the 2017 calendar year will bring new iPhones, and at least one will commemorate the iPhone's 10-year anniversary. But outside of that, nothing is really confirmed.
Initially, reports suggested the new device would be called the iPhone 8 — skipping over the iPhone 7s — and there would be two models. But more recent rumors say there will be both an iPhone 7s and an iPhone 8, totaling three unique models.
Two of the smartphones will be the iPhone 7s and iPhone 7s Plus. The third, slated to be released after the iPhone 7s, is commonly being called the iPhone 8. This device will likely be the one with all the cutting-edge features and the hefty price tag of $1,000.
Also up in the air is the exact name of the third commemorative smartphone. Some say it will be called the iPhone 8, while others are referring to it as the "iPhone X." The "X" refers to the Roman numeral for 10, which would be fitting for the smartphone releasing on the 10th anniversary, according to Wall Street analysts.
Meanwhile, the most recent reports suggest the device will neither be called the iPhone 8 nor the iPhone X, but rather the "iPhone Edition."
As for device specs, the smartphone is rumored to have a 5.8-inch display, improved battery life and an edgeless OLED display. It will reportedly be "bezel-less," have the home button and fingerprint sensor built into the screen, feature wireless charging and come with a new 3-D sensing technology allowing for "some form of facial/gesture recognition."
More iPhone 8 news
Stay up to date with all the latest iPhone 8 news and rumors. See the latest leaks, concept videos and specs. You can find all of the newest information on the iPhone 8 — including how it compares to other popular smartphones — right here.