Under Obama, I advised undocumented immigrants to trust police. Here's what I'd say now.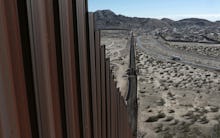 Before my time as deputy policy director for immigration on President Barack Obama's Domestic Policy Council, I spent nearly a decade working with survivors of gender-based violence, particularly immigrant women.
Since Donald Trump's inauguration, I have found myself wondering how my former clients are doing. One of my first was an undocumented woman from El Salvador, married with two daughters and a baby boy. Like many immigrants, she feared reporting her husband's abuse to the police because of her immigration status — a vulnerability abusers often exploit to keep victims silent.
"My clients would ask the same questions — in Spanish, Urdu, Arabic — over and over."
When she did go to the police, officers initially refused to file a report. Together, we persuaded law enforcement to document her account as they were obligated to by law. At trial, she detailed the emotional and physical abuse she had endured, and described its impact on her three children. More than three years after she came to me, we left court with a final order of protection. But her fears about immigration enforcement were a constant throughout our time together.
My clients would ask the same questions — in Spanish, Urdu, Arabic — over and over: Will the police call immigration? What if my abuser reports me to the authorities? What about my other family members and roommates, will immigration come for them?
I assured them that local police do not enforce federal immigration law and that Immigration and Customs Enforcement agents would not show up in at the courthouse if they went to ask for an order of protection. I said they could seek help without fearing being picked up by immigration authorities.
At the time, there may have been bad actors in the immigration-enforcement apparatus — like the police my clients sometimes encountered — but existing policies sought to protect victims. Law enforcement received trainings on helping survivors. Leadership in agencies knew that it was wrong to pick up people for reporting crimes and seeking protection. First, because these are human beings who deserve help, and second, because law enforcement and immigration authorities understood that more acts of violence would be committed if victims were afraid to report crimes and perpetrators were not held accountable. In fact, perpetrators of gender-based violence have increasingly been linked to shootings around the country.
The advice I gave my clients now keeps me up at night.
Under President Donald Trump, undocumented immigrants' need for help is being used to locate and deport them. Just a few weeks ago, a transgender woman in Texas was picked up while reportedly seeking a protective order against an abusive partner. Reports indicated that the alleged abuser likely tipped off immigration authorities to the survivor's immigration status and upcoming court date.
The White House has issued more than a dozen executive orders that show little concern or compassion for people. In addition to banning individuals from six Muslim-majority countries and halting our refugee program, the administration has widened the enforcement net to prioritize deporting all undocumented people and even those with immigration status regardless of whether they have committed serious crimes. Local law enforcement has been deputized to enforce immigration laws — the administration is even threatening to defund jurisdictions that don't oblige.
For weeks, immigration officials have been knocking on people's doors and searching domestic flights for undocumented immigrants. In addition to picking up a domestic violence survivor, they have picked up DACA recipients and even individuals leaving a homeless shelter. In this climate, people must question whether their safety is at risk if they call the police, go to court or even take their kids to school.
But the attack on survivors may just be beginning.
The Office on Violence Against Women at the Department of Justice has long provided grants to organizations nationwide that help people in abusive relationships, including immigrants. The White House is considering eliminating them, working off of a proposed budget plan created by the Heritage Foundation. In effect, this would rip away the last structural safety net that victims have: the places they go for help.
"For my old clients, the U visa was a saving grace."
The Violence Against Women Act is also up for reauthorization by Congress next year. The bill provides numerous protections for survivors of gender-based violence and their family members. Following long reauthorization battles, VAWA now includes protections for Native Americans and people of all genders, gender identities and sexual orientations, as well as immigrants, including those who are undocumented. For example, it provides the opportunity for survivors of abuse who are married to green card holders or U.S. citizens to seek their own immigration status without relying on the abuser's help. Together with the Victims of Trafficking and Violence Protection Act, VAWA also provides victims of crimes, such as survivors of abuse, with an opportunity for immigration status, known as the U visa, if they are willing to help law enforcement.
For my old clients, the U visa was a saving grace. The U visa was not only immigration relief for them; it reinforced the idea that they deserved to live free from violence and that our country was committed to ensuring that they did. When clients received their U visas, I was often met with looks of disbelief and tears of hope and gratitude.
One might think that VAWA, a bill dedicated to helping survivors of abuse, would have strong bipartisan support. But sadly, many members of Congress opposed the last reauthorization. In fact, now-Attorney General Jeff Sessions was one of VAWA's biggest critics when he was in the Senate. Only time will tell what reauthorization next year might bring for survivors of abuse.
If I could give my clients advice today, it would be different. We cannot trust policies in good faith anymore or assume humanity in their practice. Instead, we have to trust our gut and our relationships, whether you trust your neighbor or a particular police officer. Today, I would say: Rely on your support networks, create safety plans and find allies inside and outside your community. If you want to seek protection and help, I'll help and support you. If you want to hide, I'll help and support you. I'm not going anywhere, and I'll do everything I can to make sure you aren't either.
Manar Waheed is legislative and advocacy counsel at the ACLU and the former deputy policy director for immigration on Obama's White House Domestic Policy Council. She is a civil rights attorney with 12 years of expertise in immigration, gender-based violence, hate violence and profiling and surveillance.