Co-chairs of Congressional HIV/AIDS Caucus urge Trump to take action to end epidemic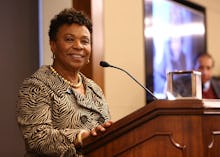 Throughout his campaign and tenure as president thus far, Donald Trump has remained relatively mum on the issue of HIV/AIDS. But in a letter sent to the president on Tuesday, the co-chairs of the Congressional HIV/AIDS Caucus urged Trump to continue decades of effort to make battling the epidemic a public health priority at the federal level.
"As co-chairs of the bipartisan and bicameral Congressional HIV/AIDS Caucus, we write to encourage you to continue the long-standing American commitment to the fight against HIV/AIDS, both here at home and abroad," the letter, signed by Reps. Barbara Lee (D-Calif.) and Ileana Ros-Lehtinen (R-Fla.), reads.
"The Trump administration has a simple choice to make," Lee said in a statement to Mic. "The United States can either continue building on our bipartisan legacy on HIV/AIDS, or we can retreat from our leadership in the world."      
In the letter, Lee and Ros-Lehtenin call on Trump to continue support for the President's Emergency Plan for AIDS Relief — a federal initiative created by former President George W. Bush — which they laud for increasing the number of people receiving treatment for the deadly disease by "nearly 11.5 million" over the last two decades. 
In January, the Human Rights Watch criticized Trump for reinstating the "global gag rule," which prohibits U.S. financial aid for groups working abroad if they advise patients on abortions. The HRW response specifically noted that the rule would potentially hamper efforts on HIV; under Bush, PEPFAR was exempted from the rule.
The bipartisan letter also urges Trump to maintain the Office of National AIDS Policy, which coordinates government efforts on HIV/AIDS, and the Presidential Advisory Council on HIV/AIDS, which collects expert advice on fighting the epidemic. 
Under Trump, ONAP faces an uncertain future. In January, the Advocate reported that the office's page on the White House website had been shut down. Following its URL currently leads to a blank website with no information. 
In early January, Amy Lansky, ONAP's last-serving director, sent a tweet on behalf of her staff to mark their final day in the office. Trump has not named Lansky's successor.
Jeffrey Crowley, the first ONAP director under Obama, said in a phone interview that "nobody really knows" the status of Trump's naming a successor to Lansky's office, but that he's heard from people who have spoken to the Trump administration that "there is an intention to name an ONAP director." 
"The Obama transition was considered to have been much more on time," Crowley said, "This transition is believed to be behind in appointing a lot of key posts before even getting to the next tier of positions like this." 
The fight against HIV/AIDS has received bipartisan and executive support through previous administrations. Bush instituted PEPFAR in 2003, with broad support from Congress, and the program has successfully put over 11 million people worldwide on HIV/AIDS treatment and averted at least 2 million new HIV infections in babies who would otherwise have been born with the disease. In 2010, Obama instituted the National HIV/AIDS Strategy, a plan to fight HIV/AIDS domestically the same way PEPFAR did internationally.
You can read the letter from Lee and Ros-Lehtenin here.
March 14, 2017, 9:07 p.m.: This story has been updated.