Bill Nye has an important message for Donald Trump about outer space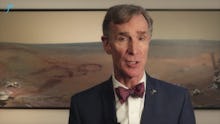 Bill Nye, celebrated Science Guy, has some very helpful advice for President Donald Trump. 
In addition to being an icon of '90s nostalgia, Nye is also the CEO of a nonprofit organization called the Planetary Society, which advocates for space science and space exploration. Donald Trump, in his new job as president of the United States, has the power to direct what NASA will do during his term — so Nye offered to help the guy out with a little cosmic advice.
In a video "open letter" uploaded to YouTube on Tuesday, Nye laid out the Planetary Society's five most crucial recommendations for the U.S. Space Program under Trump.
Nye's suggestions for Trump
Nye's five key recommendations are as follows:
• Focusing on Mars as a goal for human space exploration and maintaining Mars exploration programs that are already in development
He also says it's feasible to get humans to Mars in the next couple of decades.
Nye's recommendations come from a report issued by the Planetary Society with suggestions for Trump's transition team. The full report is available on the organization's website. 
Trump's plans for NASA
So far, Trump hasn't laid out a clear plan for NASA. As the Washington Post reported on Tuesday, Trump has yet to name anyone to lead NASA, nor does he currently have a science advisor. 
His administration has, however, reportedly tossed around plans to return humans to the moon in the next few years, which would require NASA to reshuffle or dissolve plans for Mars exploration that had been underway during former President Barack Obama's administration — something the Planetary Society advocates against.
If his suggestions aren't easy enough to digest in video format, Nye is even willing to meet with Trump to explain things further. 
"Mr. President," Nye says in the video, "I would be pleased to discuss these recommendations with you, the vice president or members of your staff in person."