Trump Approval Rating: President's ratings tank amid Trumpcare discontent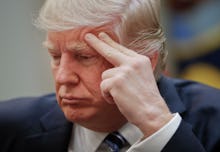 President Donald Trump's approval rating is plummeting.
The president's job approval rating sunk to 39% on Monday, down from 42% on Sunday and 45% on Saturday. 
Gallup reported that his disapproval rating was 55% on Monday, up from 51% on Sunday and 49% on Saturday.
Poor ratings are nothing new for our commander in chief. Trump is the first president-elect to enter the White House with an approval rating below 50%, clocking in at an unprecedented 45% approval and 45% disapproval rate, according to Gallup polling from the first three days following his inauguration. 
Popular opinion seems to have tumbled from there, and not without reason.
Trump's administration recently announced its plan to roll back the Affordable Care Act and replace it with an insufficient substitute in the American Health Care Act. According to a Congressional Budget Office report released Monday, the AHCA could leave 24 million people uninsured by 2026. It would deal a deadly blow to Medicaid expansion, even as it offers tax cuts to the wealthy. Even Trump, who's slapped his name on everything from steaks to a failed airline, seems to not want his name attached to it. 
The introduction of the AHCA isn't the administration's only high-profile bungling of late. Having thrown an early morning Twitter tantrum in which he accused former President Barack Obama of illegally wiretapping Trump Tower during the 2016 campaign, Trump must now produce some evidence to back up his claims. The House Intelligence Committee gave Trump's Department of Justice until Monday to furnish proof, which it so far hasn't done. 
Top White House staffer Kellyanne Conway has, however, been rambling on about microwaves spying on the president.
Trump's lowest recorded approval rating was 38% on Feb. 16, the day of his bizarre, impromptu press conference.