'Splatoon 2' Release Date: Global Testfire demo download for Nintendo Switch goes live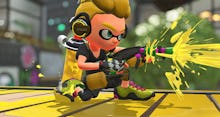 Nintendo set the Splatoon 2 release date for sometime in summer 2017 during a press event in January, but before the official launch of the game, Nintendo will bring fans a trial run of the online paint shooter. Dubbed a "Global Testfire," fans can demo the game, testing out their paint rollers and ink shooters on Nintendo's new hardware.
Splatoon 2 release date: How to download the early trial on Nintendo Switch
The Splatoon 2 demo can be grabbed from the eShop on Nintendo Switch. At the time of this writing, the game can be found in the top-left corner of the eShop. Though if you're having trouble finding it you may want to open the bar on the left side and tap the search icon.
Splatoon 2 release date: Why can't I play yet?
While the game is available for downloaded, attempting to connect to Nintendo's servers results in an error. According to Nintendo's eShop page on the Switch, the Global Testfire will take place during select time windows on March 24, 25 and 26. 
After that, the game won't be playable again until the release date this summer. You can check for the times of the Splatoon 2 Global Testfire below.
Friday, March 24
3:00 p.m. - 3:59 p.m. Eastern
11:00 p.m. - 11:59 p.m. Eastern
Saturday, March 25
7:00 a.m. - 7:59 a.m. Eastern
3:00 p.m. - 3:59 p.m. Eastern
11:00 p.m. - 11:59 p.m. Eastern
Sunday, March 26
7:00 a.m. - 7:59 a.m. Eastern
Check out more Nintendo Switch news and coverage
Looking for more Nintendo Switch news? Learn why the Switch cartridges taste so bad and how blind gamers are able to play. Check out our comparison photos sizing up the Switch to the Wii U GamePad (part one and part two). Then find out how to make use of ethernet without the dock and the best way to get alerts when new stock arrives.