The secret to no lines at New York's hottest, trendiest foodie spots? Wait for a blizzard.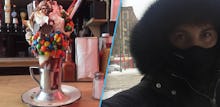 On Tuesday, Winter Storm Stella came to town, bringing with it freezing gusts of wind, razor-sharp hail and a near-inconceivable opportunity to taste some of Manhattan's most sought-after food — without waiting hours in line.  
Mic reporter Jack Smith IV took advantage of the weather conditions, resulting in the city's general emptiness, to do this very unthinkable thing: He stopped in at some of the city's leading restaurants, notorious for inhumane wait times. 
Documenting his journey on Twitter while combatting snowfall, sleet and slippery streets, Jack ventured to five hot foodie spots to see whether Stella would be The Thing that keeps both tourists and New Yorkers from feasting on the island's coveted delicacies.  Below is the re-telling of his valiant pilgrimage. 
First stop: DO
DO, a new cookie dough eatery near Washington Square Park rumored to have the longest line in New York City. The raw dessert boutique is so popular that it has a "line and closing policy" published on its website. The policy notes that customers can purchase four items max, an attempt to give everyone in line a shot at some cookie dough. (What ever happened to buying a tube of the raw stuff and challenging salmonella to a duel? What ever happened to living dangerously?) The humblebrag continues:
Our line typically starts forming well in advance of opening. We open at 10 am. Expect to stand in line for 1- 4 hours, depending on the day/time. Unfortunately we are unable to tell you the current status of the line, as it is always changing.
Still, Do's grandiose status was no match for winter storm Stella on Tuesday afternoon. Jack snapped a photo of the storefront, no line in sight, and got his taste of the exclusive dough within five — not hours, not days — minutes.
Per his documentation, it's clear at least a handful of other Stella stormers bared the face-pelting sleet, wearing fur-lined hoods and water resistant boots to take advantage of the scarce scarcity.
Next up: Black Tap Burgers & Beer
After his first "salty-sweet" feat, Jack sought out more of the same at Black Tap in Soho. Even if you don't know what Black Tap is, chances are you do: Those stupidly huge milkshakes impossibly studded with candies, cookies and cereal stacked like Jenga towers that you've seen on Instagram? Black Tap. 
The Black Tap in Soho, the restaurant's flagship location, first opened in March 2015 and touts hours-long wait times for its alleged 1,600 calorie monster shakes and less-instagrammable-but-still-worthy hamburgers. The host told Jack, who waited zero minutes to be seated around 3 p.m., that the line is typically two hours long.
Jack opted for another sweet and salty dessert, aptly named the Sweet N' Salty: a giant peanut butter shake consisting of a "chocolate frosted rim with chocolate gems & PB cups topped with a sugar daddy, pretzel rods, chocolate covered pretzel, whipped cream and chocolate drizzle," according to the restaurant's online menu.
Jack described the concoction as "leviathan," which reveals two things: He is not a food writer, and maybe this food writer should study her Old Testament references a bit more. For a visual, this is what appears in Google's image search of "leviathan":
Third on the list: Dominique Ansel Bakery
For his third NYC jaunt, you'd think that Jack might go for some savory fare.
And yet, Jack remained in the city's downtown area to test the lines at Dominique Ansel's bakery. Best known for the Cronut — a trademarked croissant-donut hybrid — the Soho spot draws lines that wrap around Spring Street before the bakery opens at 8 a.m. 
So desired is this breakfast pastry that back in the summer of 2016 (three years after the Cronut's debut), people in line either failed to notice or were indifferent to a literal dead body located on a bench beside those waiting. 
Tuesday was a different story. The bakery was desolate, but also was fresh out of Cronuts. Those who were able to snag the bakery favorite were probably able to mosey on over without experience the frenzied line patrons are accustomed to. And also no dead bodies.
Stops No. 4 and 5: Closed for business
Without ingesting a Cronut, Jack ventured to his final destinations of his 2017 Stella Storm Food Crawl: Drunken Dumpling and Clinton St. Baking Company. The former, renowned for its gargantuan Xiao Long Bao, or soup dumpling, was closed for business. This dish is served with a straw for broth extraction purposes.
According to its Facebook, Clinton St. Baking Company dishing out XL hot chocolates and thick blueberry pancakes earlier in the morning, but closed to switch over for its 6 p.m. night shift before Jack could get a taste. 
It may have been a reporting fail, or it may have been a blessing from a Leviathan, allowing Jack some time between his next  sugar crash.
The lesson to take from all of this: Don't wait in line for food. Wait in life for a snow storm.