'Diablo 3' Necromancer: Female model and "meleemancer" revealed — still no release date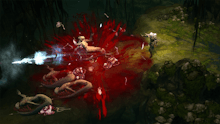 Blizzard is remaining tight-lipped about a concrete price or release date for the content pack that will include Diablo 3's new class, the Necromancer. But a new blog post details some cool abilities you can expect to see whenever it's released.
Specifically, this "meleemancer" build is a close-quarters load-out that requires you to play fast and loose with your own health bar as a resource. 
This new blog post also finally reveals the official character model for the female Necromancer. Good news: No matter which gender you pick, the Necromancer still looks awesome.
Diablo 3's new class: Female Necromancer revealed
First, let's get this out of the way because we know it's why you're actually here. This is what the female character model for the Necromancer looks like:
All right, now for the nitty-gritty! Let's talk about the cool new abilities Blizzard showed off.
Diablo 3 Necromancer: Blizzard shows off bloody "meleemancer" build
This build doesn't involve a ton of summoning. Instead, it allows you to play around with your own health as a resource in battle. One power, called "blood nova," deals a ton of damage to everyone around you but uses up some of your own health in the process. Once you clear everyone out, you can then use "cannibalize," which restores some of your health for every dead enemy in the area.
The build also includes a beefy pet called the blood golem, which you can destroy at any time to restore some of your own health. It looks pretty badass when you summon him, too:
There's no official release date for the Necromancer yet, but Blizzard's goal is to release it sometime in the "second half of 2017." Blizzard also has not announced a price.
However much it ends up costing, Blizzard said your purchase will include some other items, too.
"The Necromancer is part of a content pack which includes the class, an in-game pet, cosmetic wings, two additional character slots, two additional stash tabs (on PC), a portrait frame, pennant, banner and a banner sigil," reads a Tuesday blog post.
If you don't want to fork over any money, there will also be a free update at the same time that "includes two new zones, Challenge Rifts and more."
More gaming news and updates
Check out the latest from Mic, including our deep dive into how female Overwatch players are dealing with online harassment, a cool making-of video for Legend of Zelda: Breath of the Wild and an article about what a Bechdel test for gaming might look like.