Trump paid $38 million tax on $153 million income in 2005, report and White House say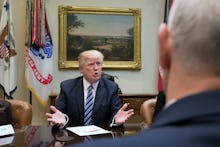 On Tuesday evening, MSNBC host Rachel Maddow released partial documents from one of President Donald Trump's tax returns, which show the president paid $38 million on $153 million in income from his business and media empire in 2005.
Maddow was joined on Tuesday night by tax-policy expert David Cay Johnston, a Pulitzer Prize-winning investigative reporter who wrote The Making of Donald Trump. A simultaneous report on the Daily Beast, where Johnston is a contributor, showed Trump and his wife Melania paid a cumulative $5.3 million in regular federal income taxes, a rate of under 4%, and another $31 million in the alternative minimum tax, a tax for individuals and organizations with special circumstances that allow them to pay a lower rate.
That means, in 2005, Trump paid net federal taxes of roughly 25.33%. As the Daily Beast noted, Trump appears to have taken advantage of a $916 million loss from his casino businesses in 1995 to lower his overall tax burden even as late 2005.
The two pages of Trump's 2005 return were released on Johnston's website, though it was crashing from heavy traffic as of Tuesday evening. Mic could not confirm the authenticity of the documents.
In response, the White House gave an identical quote to several media organizations confirming that Trump paid $38 million on his 2005 tax bill. Reuters' Jennifer Ablan reported the White House confirmed Johnston's numbers and noted it added the president had a responsibility to "pay no more tax than legally required."
According to the Guardian, in 2005 the highest tax bracket was 35% and capital gains taxes were 15%. So 2005 "could easily be the year he paid the absolute most in taxes," the paper wrote. It also noted the documents said "client copy," so whoever leaked them likely had "access to Trump's personal files." That person, in theory, could be the president himself.
Johnston said he received the documents by mail. A longtime Trump critic, Johnston wrote in his book that Trump has long taken advantage of tax provisions, allowing him to deduct the depreciated value of properties he owns to minimize or even eliminate his tax burden. On at least one occasion Trump ran afoul of the IRS when he failed to provide documentation for over $600,000 in Schedule C expenses, and his accountant Jack Mitnick said he did not submit that paperwork.
In response, a White House official questioned the legality of releasing the returns, saying it was "totally illegal to steal and publish returns" — though Mic could not independently verify at this time that anything illegal happened in MSNBC's acquisition of the return.
"There is no legal prohibition against journalists publishing these tax returns. It is protected by the First Amendment and Supreme Court precedent," a MSNBC spokesperson said in an email.
"You know you are desperate for ratings when you are willing to violate the law to push a story about two pages of tax returns from over a decade ago," the White House official wrote.
"Before being elected president, Mr. Trump was one of the most successful businessmen in the world with a responsibility to his company, his family and his employees to pay no more tax than legally required," the statement continued. "That being said, Mr. Trump paid $38 million dollars even after taking into account large-scale depreciation for construction, on an income of more than $150 million dollars, as well as paying tens of millions of dollars in other taxes, such as sales and excise taxes and employment taxes, and this illegally published return proves just that."
"Despite this substantial income figure and tax paid, it is totally illegal to steal and publish tax returns," it concluded. "The dishonest media can continue to make this part of their agenda, while the president will focus on his, which includes tax reform that will benefit all Americans."
Celeste Katz contributed additional reporting to this article.
March 15, 2017, 10:04 a.m.: This article has been updated.