White House, allies push back after MSNBC releases pages of Trump's 2005 tax return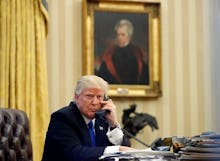 The White House lashed out at MSNBC's Rachel Maddow Tuesday night after she announced her plans to disclose information about President Donald Trump's 2005 tax return, saying she had no right to do so.
"You know you are desperate for ratings when you are willing to violate the law to push a story about two pages of tax returns from over a decade ago," a White House official said by email before Maddow's broadcast began at 9 p.m. Eastern. 
Maddow, who eventually revealed the documents, read the statement on air and responded, "For the record, the First Amendment gives us the right to publish this return. It is not illegally published."
The White House statement said that before Trump became president he had a responsibility to his company, family and employees to pay no more in taxes than the law required — then confirmed the numbers on the return released by MSNBC. 
"That being said, Mr. Trump paid $38 million dollars even after taking into account large scale depreciation for construction, on an income of more than $150 million dollars," along with tens of millions in other taxes, "and this illegally published return proves just that," the statement continued — without citing a legal argument against releasing the information.
The White House official repeated the allegation of illegality.
"Despite this substantial income figure and tax paid, it is totally illegal to steal and publish tax returns," the statement concluded, adding a jab at the "dishonest media."
A spokesperson for MSNBC said by email the release of the documents was constitutionally protected.
"There is no legal prohibition against journalists publishing these tax returns," the spokesperson said. "It is protected by the First Amendment and Supreme Court precedent."
Trump's son Donald Jr. tweeted a sarcastic thanks to Maddow. 
Trump allies hit the airwaves and Twitter to back up the president.
"Thank you Rachel Maddow for proving to your #Trump hating followers how successful @realDonaldTrump is & that he paid $40mm in taxes!" he wrote — slightly inflating the tax bill.
Dan Scavino, Trump's director of social media, used his personal and official Twitter handles to throw shade at Maddow. Scavino posted a video that spliced footage of the MSNBC host explaining why Trump would lose the race with election-night coverage of his upset victory:
On CNN, Jason Miller, a former member of the Trump communications team, insinuated the source of the document could be looking at jail time.
"Whoever stole and leaked these materials, how do they look in orange, because they are in serious trouble?" Miller asked. "You don't steal forms like these and put them out publicly."
Miller, who backed out of a White House job offer after the election, cited Trump's longstanding argument that he has withheld his tax information while under audit, although the Internal Revenue Service has said that would not prevent him from releasing the information in the tradition of his predecessors.
Michael Caputo, another former Trump aide, suggested in a tweet that the tax return scoop was a big nothingburger:
Other Trump Cabinet advisors and family members remained silent as the broadcast unfolded.
March 14, 2017, 10:37 p.m.: This article has been updated.