'WWE 2K18' Roster: 5 wrestling legends that need to be added to the game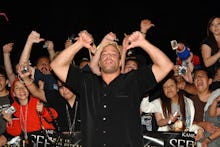 Roster size definitely isn't an issue in the WWE 2K series. However, there are a few glaring omissions that should be filled with WWE 2K18 on the horizon.
Here are five legendary wrestlers that deserve a spot on the WWE 2K18 roster.
WWE 2K18 Roster: Jeff Hardy
Few former WWE Superstars maintain the level of popularity that Jeff Hardy has since his departure from the organization.
His high-flying moveset and distinctive face paint give him the charisma that would still make him a star if he were in the WWE.
If Hardy is announced, it'll be to the delight of most WWE 2K fans.
WWE 2K18 Roster: Matt Hardy
You can't have one Hardy without the other. Matt has reinvented himself with the Broken Matt Hardy gimmick.
There's no chance he'll appear with that persona, but something is better than nothing.
WWE 2K18 Roster: Tito Santana
As one of the pioneers of the 1980's WWE scene, Santana is often overlooked. In the 1980's, he had memorable feuds with Randy Savage and Greg "The Hammer" Valentine.
He's also a former two-time intercontinental and tag team champion. Oddly enough, Santana has never been featured in a WWE video game.
That needs to change this year.
WWE 2K18 Roster: Rob Van Dam
Speaking of high-flying wrestlers, it's been a few years since RVD was in a WWE video game. To be exact, RVD last appeared in WWE 2K15.
The best move sets have some element of martial arts, and few have more infused in than RVD.
From spin kicks to frog splashes off the top rope, RVD had it all.
WWE 2K18 Roster: Kurt Angle
This is a no-brainer. Angle was recently announced as a member of the upcoming WWE Hall of Fame class.
Angle hasn't been in a WWE game since WWE Smackdown vs. Raw 2007.
That's far too long of an absence for a legendary performer like Angle.
More sports gaming news and updates
Are you a sports gamer? Check out more content from Mic, including news on tips on leveling up your NBA 2K17 MyPlayer, playing quarterback in Madden 17, the latest information on MLB The Show 17 and the classic Nintendo sports games we want to see on the Switch.