"Beware of Jews" sign posted in a Hasidic London neighborhood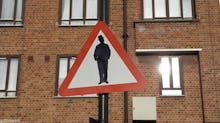 A troubling sign has appeared in London's heavily Jewish Stamford Hill community and was reported by neighborhood watch group Shomrim on Tuesday, the Guardian reported. The "Beware of Jews" sign features the silhouette of what appears to be an Orthodox Jewish man.
"The people of Stamford Hill are very sadly used to instances of anti-Semitic hate crime, but most of those times it will be verbal abuse or even assault," Barry Bard, Shomrim operational supervisor for Stamford Hill, told the Guardian. "A lot of the time it will be more of a person-to-person kind of thing, or graffiti, which is more unprofessional."
"The person who planned [the sign] has obviously gone to an effort to cause alarm and distress to local people," he added.
Stamford Hill is home to around 30,000 Hasidic Jewish people, the largest Hasidic community in Europe. In October, Shomrim reported that its residents suffer anti-Semitic abuse on a near daily basis, mostly verbal threats of violence and jeers. 
According to the BBC, people in the neighborhood "weren't as concerned" as about the sign Shomrim made them out to be. Still, as seems to be the case in the United States, anti-Semitic hate crimes are on the rise in the UK: The Community Security Trust counted 1,309 hate crimes in 2016, over 100 more than the previous record high of 1,182 in 2014 and a 36% increase from 2015.
The sign drew criticism from Labor Member of Parliament Diane Abbott, who tweeted that it was "disgusting" and "unacceptable," while Labor MP David Lammy called the sign's installation "despicable, nasty behaviour that has absolutely no place in our community." 
According to the Guardian, the sign is due to be removed Wednesday morning.