Cancelled flight? Here's how to rebook or get a refund.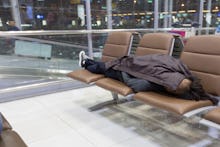 It's been a bad week to try and get on a plane. After winter storm Stella dumped as much as 30 inches of snow on parts of the East Coast, around 6,500 flights across the country were cancelled Tuesday as delays in New York City's airports rippled across the country, according to Reuters.
You might still be feeling the pain. Airlines were still seeing cancellations and delays into Wednesday morning, as NBC Connecticut anchor Heidi Voight tweeted:
What to do when a flight gets cancelled
If your flight gets cancelled, the first thing to do is consult your airline, since, as Money notes, each one has a slightly different policy for dealing with cancellations. In some cases, airlines like Southwest will let you fly within 14 days of your original date free of charge. (Here's a list of phone numbers for most airlines.)
While bumped passengers are entitled to some sort of compensation, often a refund, most airlines have what's called a force majeure contract, meaning that they're not as liable when the delays aren't their fault — i.e., when a massive storm dumps snow onto the runway. 
Even if that's the case, you should get booked on the next available seat, although there's no knowing for sure just how long that could take. 
As you rebook your flight, industry sources told CBS you should try to get on a larger plane if you can: Most airlines list the details of each plane on their website, including the number of seats it has. The more seats, more people who may end up needing to be re-routed, according to CBS: 17 of the 20 worst performing routes had small jets. Although planes fall on a big range, American Airlines runs carriers ranging from 36 seats (the Dash 8) to over 300. 
A little bit of preparation goes a long way. Having your documents organized and minimal luggage will make it easier to hustle, which might be necessary. 
Keep your cool and book a hotel if you need
Generally, flights are going to stay cancelled for as long as pilots think the weather conditions are unsafe, meaning that until the storm's over, there's little to be gained by sticking around and waiting at the airport. So get out of there.
If you can't get through by phone, you might have more luck reaching out to your airline via their website, phone app or social media, which will allow you to avoid being put on hold. It may be hard, but try to reign in the 'tude if you can — you catch more flies with honey than with vinegar. 
Finally, if you've got time on your side, pull the trigger on a hotel sooner rather than later. A delayed flight, after all, is as good an opportunity as any to comparison shop, and you may be able to find a reasonably priced room at the last minute.
Sign up for The Payoff — your weekly crash course on how to live your best financial life. Additionally, for all your burning money questions, check out Mic's credit, savings, career, investing and health care hubs for more information — that pays off.