'Super Smash Bros.' Nintendo Switch Characters: Leaked amiibo tease roster updates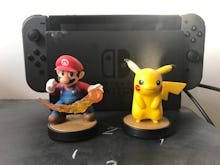 Super Smash Bros. 4 on the Nintendo Switch is still just a rumor with no set release date. Unlike, Splatoon 2 or Super Mario Odyssey, there's nothing in the way of announcements that should lead us to believe Smash Bros. Switch is coming anytime soon. 
Yet the game is such a prominent property in Nintendo's universe that it's kind of a given. Even Nintendo of America's president sees no use in playing coy about the Smash Bros. Nintendo Switch arrival.
We've seen zero footage of the fighting game on the Nintendo Switch, but recent amiibo listings give Switch-owning fans of the series hope.
Super Smash Bros. Nintendo Switch characters: More Amiibo are on the way
According to a recent Nintendo filing, new amiibo are on the way. The company is required to register these scannable toys under the legislation of the Consumer Product Safety Improvement Act to make sure they're not hazardous. You know, in case people start tasting those too.
Nintendo's registry indicates four additional amiibo. Interestingly, as portaldark notes on Reddit, they're all Smash Bros. related. The same user notes that, judging by hidden bonuses in Breath of the Wild, new Zelda amiibo could be expected. So how do we know they belong to Smash Bros.?
The item number found in all four of the amiibos' certificates includes the indicator "AA." According to Nintendo Wire, that would seem to suggest a Smash Bros. amiibo rather than a Zelda one. Where Super Smash Bros. 4 amiibo Pikachu and Smash Bros Link, for example, have "AA," Zelda amiibo like Zelda herself or Breath of the Wild Link show "AK."
Super Smash Bros. Nintendo Switch characters: A new challenger approaches?
So who could these four fighters be? We have a few ideas.
There are three characters in Super Smash Bros. 4 that still don't have amiibos: Corrin (of Fire Emblem), Bayonetta (of her self-titled game) and Cloud (of Final Fantasy). So those seem like likely candidates for the new toys.
So what about the fourth amiibo? We could see an updated Link amiibo to celebrate the new masterpiece Nintendo has on its hands with Breath of the Wild. A new outfit for Link in Smash Bros. and an amiibo to go along with it would make sense, alongside news of a Switch port. Or they could very well be bringing a new fighter to the Wii U edition of Smash like Rayman. Let's hope the company brings us more details at E3 2017.
Check out more Nintendo Switch news and coverage
Looking for more Nintendo Switch news? Learn why the Switch cartridges taste so bad and how even blind gamers are joining in on the Switch fun. Check out our comparison photos sizing up the Switch to the Wii U GamePad (part one and part two), find out how to make use of ethernet without the dock and the best way to get alerts when new stock arrives.