Mischa Barton's lawyer responds to "revenge porn" purveyor: "We will find you"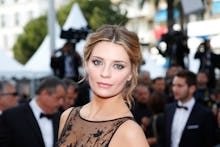 Mischa Barton may be the victim of revenge porn. On Monday, the Daily Mail reported that explicit footage of The O.C. actress is being auctioned off to the porn industry's biggest sites with a $500,000 starting bid.
In the Daily Mail's words, the video shows a woman, allegedly Barton, "wearing a gray hoodie and nothing else having sex on a double bed with a man wearing just a black T-shirt." The Mail added:
The explicit footage appears to have been shot in a bedroom. The bed has a leather-padded headboard and mirrored panels, while coffee cups and an empty bottle of Gatorade litter a bedside table.
According to Barton's lawyer, Lisa Bloom, the footage constitutes revenge porn filmed by an ex.
"It has been reported that naked or sexually explicit images of Ms. Barton are being 'shopped around,'" Bloom wrote in a statement, posted to Facebook. "Ms. Barton does not consent to any disclosure of any such images. She believes that she was recorded without her consent by someone she was seeing at the time."
The Mail stated that "Barton has not stepped out with anyone publicly" for a while, although the outlet does not offer any indication as to when the footage was recorded. 
Revenge porn — images taken with a person's consent, but distributed without it — has been a crime in California since 2013. Although Bloom calls the footage "revenge porn," what she describes in her letter actually sounds closer to invasion of privacy under California's penal code, in which the victim doesn't know they're on camera and doesn't consent to an encounter being recorded.
Bloom's message to the filmmaker and anyone who tries to distribute it: "We will find you, and we will come after you. We will fully prosecute you under every available and civil law."
"You proceed at your peril," Bloom added.